Hunt for three inmates after Missouri jailbreak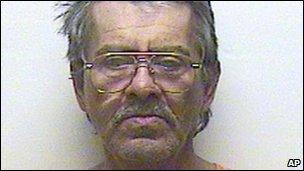 Authorities are searching for three inmates, including a convicted murderer, who escaped from a jail in the US state of Missouri by crawling under a fence.
The trio escaped from the Daviess/DeKalb County jail in Pattonsburg on Sunday night wearing orange prison jumpsuits with no shoes.
The fire department is going door-to-door warning residents of the incident.
The town's only school, which serves 170 students, remains locked down.
"I don't normally lock my doors, but I am now. I'm sure everybody is," city clerk Karen Shepherd told Associated Press news agency.
The escaped inmates include 57-year-old Carlos Sarmiento, who was awaiting sentencing for first-degree murder and armed criminal action in the death of his roommate, Lance Davis.