US woman accused of killing four babies in Pennsylvania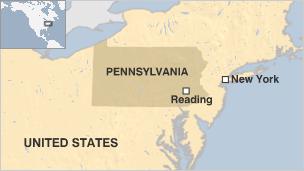 A Pennsylvania woman killed at least four of her newborn babies and hid their remains in containers in a locked closet, prosecutors say.
Authorities say Michele Kalina, 44, conceived several children - possibly in an extramarital affair - hid the pregnancies, then killed at least four.
The remains of a fifth baby were found at a local dump but tests could not show it had been born alive.
Ms Kalina faces several charges so far, including one of criminal homicide.
She was arrested in August after her husband and daughter found the bodies.
Authorities in Berks County in Pennsylvania say Ms Kalina told her boyfriend and husband she suffered from ovarian cysts in order to explain the change in her physical appearance.
They believe the majority of the dead babies were fathered by the boyfriend.
The bodies were discovered in August, when Ms Kalina's husband and daughter defied her instructions not to open a closet in their flat in the city of Reading, authorities said.
They found one set of bones and telephoned authorities, but police who arrived did not believe the bones were human and told the pair they could throw them out.
The husband and daughter then discovered more remains - in refrigerators and one encased in cement in a box - and called back. Ms Kalina fled and authorities launched an investigation.
Forensic testing of four of the corpses revealed they had been born alive then killed either by asphyxiation, poisoning or neglect, Berks County District Attorney John Adams told media on Monday.
Remains of the fifth baby were found at a dump after the daughter and husband mistakenly discarded them.
"These remains were all badly decomposed skeletal remains," Mr Adams said.
Ms Kalina was charged with one count of criminal homicide, five counts each of abuse of a corpse and concealing the death of a child, and other charges, according to a docket sheet obtained from the Pennsylvania court. Mr Adams said other charges may be filed.
"I'm very confident we have all the babies," he told reporters.