Why Mexicans are watching California's marijuana vote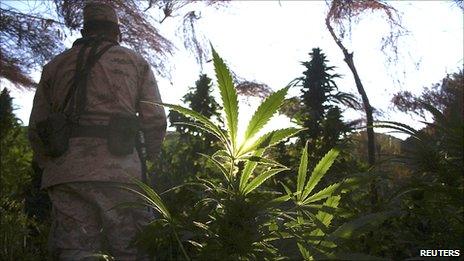 More than 130 tonnes of marijuana were found last week in Tijuana, the Mexican border city where drug cartels have been fighting for years to take control of the lucrative trafficking routes to the US market.
It was the biggest marijuana haul ever found in Mexico, hailed by the government as a significant victory in its war on drugs.
But as the thousands of confiscated packages were burned by Mexican security forces, just over the border in California campaigners were continuing their push to have cannabis legalised.
If California voters pass Proposition 19 in a statewide ballot on 2 November, on one side of the border will be a state where the production, sale and consumption of cannabis will be legal, and one the other a country where a turf war fought by the criminal gangs has left more than 28,000 people dead.
That is why many in Mexico are paying careful attention to the California vote.
"If this legislation is passed in California, I and many more will start asking President Felipe Calderon to promote local laws on legalisation," says Mexican historian and journalist Hector Aguilar Camin
"It would be aberrant and ridiculous to ask Mexico to fight the trade in marijuana and consider it a crime, while the largest US state is legalising it. It doesn't make sense, neither from a political or a diplomatic point of view," he told the BBC.
He is not the only one who has been lobbying for the regulation of cannabis on Mexican soil.
Former president Vicente Fox, a conservative like Mr Calderon, has called for the legalisation of cannabis, saying that "radical prohibition strategies have never worked".
Although it has been legal to carry small amounts of marijuana (up to 5g ) for personal consumption in Mexico since 2009, President Calderon argues that regulation of the drugs trade would mean "a surrender" to the Mexican cartels he has been fighting since December 2006.
The government is studying "the possible implications of marijuana legalisation in the US", officials say
"Legalisation could have an effect and we are open to discussing and analysing it," said Alejandro Poire, the president's spokesman on security issues.
But he indicated that "more and better evidence and analysis" were needed to persuade the government to consider any legalisation moves.
"Mexican drug trafficking organizations dominate the transportation of illicit drugs across the southwest border and are the greatest drug trafficking threat to the United States," the report stated.
More than 1,500 tones of marijuana were seized along the southwest border in 2009, most of which came from Mexico.
That is why supporters of cannabis regulation in Mexico argue that a vote in favour of Prop 19 would also weaken the funds of drug cartels funds.
"This would be a way of stealing money from the drug trafficker's pockets so they couldn't bribe the authorities, purchase new weapons or hire more hitmen," says Mr Aguilar Camin.
However, a study published this month by the RAND corporation puts forward a counter-argument.
"Legalising marijuana in California will not dramatically reduce the drug revenues collected by Mexican drug trafficking organizations from sales to the United States," the Rand Corporation said, noting that California accounts for about 14% of marijuana use in the US.
The US thinktank's report suggests that Mexican drug trafficking organisations generate some $1bn- $2bn (£630m to £1.26bn) annually from smuggling marijuana to the US market, far less than estimates by the government or other groups.
"Legalising marijuana in California would not appreciably influence the Mexican drug trafficking organizations and the related violence unless exports from California drive Mexican marijuana out of the market in other states," said Beau Kilmer, the study's lead author and co-director of the RAND Drug Policy Research Center.
If California marijuana came to dominate the US market, then Mexican cartels could see their profits hit, losing some 20% of their total drug export revenues, the RAND study found.
The impact on violence in Mexico is also unclear.
"There are some scenarios that suggest a large decline in revenues might provoke increased violence in the short run and a decline after some years," said study co-author Peter Reuter, a professor of public policy and criminology at the University of Maryland.
Next week, marijuana growers in California may see the way clear to plant their first legal seeds.
But in Mexico, for now, it is only uncertainty that is growing.
Related Internet Links
The BBC is not responsible for the content of external sites.