Fierce storm muscles through Midwestern US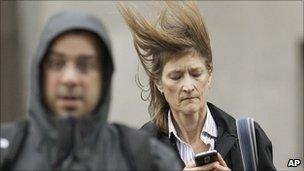 A fierce storm is muscling its way throughout a large portion of the US, bringing with it piercing rain, sharp winds, tornadoes and even snow.
Gusts of wind up to 81mph (130km/h) have snapped trees, brought down power lines and ripped off roofs across the Midwest and Southern US.
Tornadoes are being blamed for injuries from Wisconsin to North Carolina.
Forecasters said the storm's pressure was like a category three hurricane with tropical storm-like winds.
National Oceanic and Atmospheric Administration spokeswoman Susan Buchanan said the storm's pressure reading was among the lowest ever in a non-tropical storm in the US and that low pressure readings can often carry increased winds.
"This is a very different type of event," said meteorologist Edward Fenelon.
"But that does give an indication of the magnitude of the winds. This isn't something you see even every year."
The National Weather Service indicated that as much as 8in (20cm) of snow had fallen in North Dakota, with a blizzard warning in effect for the state on Wednesday.
Wisconsin, Minnesota and South Dakota were also expecting to see a small accumulation of snow.
Eleven people were injured in North Carolina when strong winds demolished three homes, prompting tornado watches across the South East.
A string of tornadoes also whirled through states including Wisconsin, Illinois, Ohio and Tennessee, flattening homes and causing road accidents.
On Tuesday, forecasters told Illinois residents to expect the most powerful storm to hit the region in over 70 years.
The storm was blamed for the cancellation of roughly 500 flights at Chicago's O'Hare Airport and countless delays in cities like Cincinnati, Indianapolis and Minneapolis.
In a Chicago suburb, a 41-year-old woman was injured while driving her car when a branch fell 65ft (20m) from a tree and was impaled in her abdomen.
Helen Miller, an art teacher, asked doctors to hold on to the branch for a future project.
Related Internet Links
The BBC is not responsible for the content of external sites.