Computer glitch halts communication with US missiles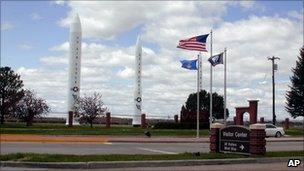 A computer glitch knocked 50 US nuclear inter-continental ballistic missiles offline for 45 minutes on Saturday, an air force official told the BBC
A malfunction in the communication network caused the problem at FE Warren Air Force base in Wyoming.
The 50 missiles make up one-ninth of the US land-based arsenal, with the Air Force Global Strike Command commanding 450 Minutemen III ICBMs.
The base was capable of launching other missiles had the command been given.
A glitch occurred in an underground cable system that links a launch control centre at the Wyoming base to silos containing the missiles.
"The cause is still being analysed, but they [engineers] are focusing on the communication network," air force spokesman Todd Vician said.
"This does not represent a significant breach to the security of the system."
There is no potential for the missiles firing accidentally when a malfunction of this nature occurs, Mr Vician said, adding that the air force has put in place multiple "redundant systems" to prevent them from firing.
There was also no indication foreign governments or terrorists had hacked into the system.
On Tuesday, air force experts examining maintenance records found similar incidents had occurred at other bases more than 10 years ago, US media reported.
President Barack Obama was briefed about the event early on Tuesday.
The US states of North Dakota, Montana and Wyoming all have bases with ICBMs.
Related Internet Links
The BBC is not responsible for the content of external sites.