Why Tea Party candidates may cause business headaches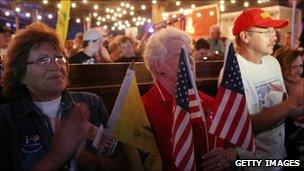 After a tumultuous 18 months, which have seen them capture the headlines and drive the debate, conservative Tea Party activists are poised to see their new-found passion for politics translated into seats at the high table.
But could their ideas prove too radical for business leaders?
There is no party, of course, but at least 33 candidates backed by Tea Party groups are in contention for the House of Representatives and eight are in close races for a seat in the Senate.
It seems likely the new Congress will feel the influence of the movement, which has a disdain for Washington politics that is often barely concealed.
In March, I found members of the Waco Tea Party in Texas reciting the Preamble to the Constitution, as if it were a prayer, in the midst of a lively debate over what to do about President Barack Obama's healthcare reforms.
The members here were almost all white, middle class, educated and new to politics.
They were also looking forward to making an impact in elections - then still more than seven months away.
"If they don't have a really good record of being fiscally responsible and following the Constitution, nobody's safe," local organiser Toby Marie Walker said.
Conscious of its own fiscal irresponsibility during the Bush years, the Republican Party has sought to reassure voters that it has learned its lesson and now represents the party of prudence and sobriety at a time when government spending is, as the narrative has it, out of control.
But could the anti-spending fervour of Tea Party members, and some of their preferred candidates, prove too militant for business leaders?
As they survey the upcoming elections, some are wondering if populist rhetoric is going to be translated into an environment in which all government spending, not just bail-outs and stimulus programmes, is seen as anathema.
Pete Ruane, president and chief executive of the American Road and Transportation Association, anticipates a "Herculean task" pushing a $500bn (£317bn) road and highway plan through Congress next year.
"I think it will be harder than it has been in the past," he said.
Mr Ruane added that his members do at least enjoy one advantage over other sectors of the economy.
"We're one of the few programmes that's specifically identified in the Constitution," he said, pulling out a copy he keeps handy for such situations.
Section 8 grants Congress the power to regulate commerce "among the several States" and "establish Post Offices and Post Roads".
"We're citing this now solely to respond to the concerns raised by these folks, many of whom will be elected," he said, adding that infrastructure spending may be one of the few government priorities that will enjoy a modicum of bipartisan support in the new Congress.
During the primary season, the US Chamber of Commerce, which supported two of President Obama's emergency measures - the Stimulus Bill and auto-industry bail-out - invested heavily in establishment Republican figures, some of whom lost to candidates backed by the Tea Party.
Could some of those candidates, like Kentucky's Rand Paul and Colorado's Ken Buck, simply prove too radical, even for their own party?
"I think you see that phenomenon more at work in the Senate," says Kathryn Lehman, a lobbyist and Republican with a great deal of experience on Capitol Hill.
"That's going to be a challenge. Some of them really don't like government," she said, referring to candidates like Rand Paul in Kentucky, Ken Buck in Colorado and Joe Miller in Alaska.
Ms Lehman says the atmosphere in the House of Representatives, with its two-year election cycle, is likely to be more pragmatic.
But she acknowledges the forces possibly propelling the Republicans back into government present a challenge.
"There is a lot of anger and scepticism about government and the Republicans are really going to have to work a careful path to get things done."
Mike Kelly, a car dealer and former Notre Dame football player running for a House seat in north-western Pennsylvania and enjoying strong Tea Party backing, said that was not a problem.
"I'm looking to fix things that need fixing," he said.
The 62-year-old grandfather chuckled at the suggestion that he is one of the Republican Party's young guns - 77 candidates with good hopes of picking up a House seat.
Mr Kelly says he absolutely wants bail-outs and stimulus spending to end and says Tea Party members are just "good, common-sense people" who want to live their lives without a lot of government intervention.
Does he consider himself a revolutionary?
"It depends how you define revolutionary," he said.
"Do I want my country back? Absolutely."