US political ad mistakenly shows German troops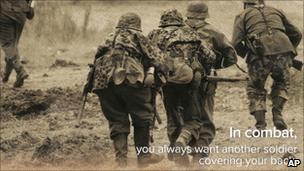 A North Carolina state legislator says he supports the military, but a flyer prepared by his campaign could lead some to question which country's.
Democrat Tim Spear's campaign has apologised after inadvertently sending voters a leaflet showing actors in World War II-era German uniforms.
The firm that produced the advert touting his support for the military has accepted blame, US media reported.
The state Republican Party obtained the flyer and distributed it to the media.
Mike Brown of Washington DC consulting firm MSHC Partners told the Associated Press that designers had not noticed the soldiers portrayed with their backs to the camera were in German uniform.
The flyer read: "In combat, you always want another soldier covering your back."
Related Internet Links
The BBC is not responsible for the content of external sites.