Obama tells Daily Show more time needed for reforms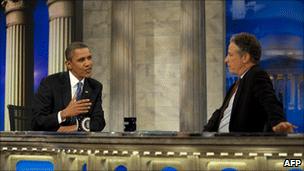 US President Barack Obama has used a primetime appearance on Jon Stewart's satirical Daily Show to appeal for more time to carry out his reforms.
Mr Obama is the first sitting president to appear on the Comedy Central show.
The appearance came six days before mid-term elections that could see the Democrats lose their grip on Congress, and the president is campaigning hard.
Mr Obama said: "We have moved forward an agenda that is making a difference in people's lives each and every day.
"Is it enough? No. And so I expect, and I think most Democrats out there expect, that people want to see more progress."
Stewart challenged the president to answer why, two years after he won on a promise of hope and change, his fellow Democrats "seem to be running on 'Please, baby, one more chance'".
But the president said the changes were "not going to happen overnight".
"When we promised during the campaign 'change you can believe in,' it wasn't change you can believe in, in 18 months.
"It was change you can believe in, but you know what, we are going to have to work for it."
Mr Obama acknowledged there was frustration over issues such as lingering high unemployment and the flagging housing market, but said Americans seemed unaware of some of the administration's achievements.
"What have you done that we don't know about?" Stewart asked. He quipped: "Are you planning a surprise party for us, filled with jobs and healthcare?"
Mr Obama replied that the Democrats had passed a government-sponsored health insurance programme for children and new regulations on credit cards.
He also dismissed accusations that the healthcare reform had been "timid".
"This is what I think most people would say is as significant a piece of legislation as we have seen in this country's history," he said.
Mr Obama also said Democrats in conservative areas who have backed legislation despite its controversy should be rewarded with re-election.
"My hope is that those people are rewarded for taking those tough votes. If they are, then I think Democrats will do fine on election day," he said.
Republicans have spent this season campaigning on voters' discontent with Mr Obama and Democrats' stewardship of the economy, and polls suggest the party is poised to take control of the House of Representatives and weaken the Democrats' hold on the Senate.
That scenario would dramatically curtail Mr Obama and the Democrats' ability to pass major legislation.
The Daily Show with Jon Stewart takes aim nightly at politicians of both parties, but its presenter leans to the left and much of the show's content targets apparent hypocrisy and bigotry among Republicans.
The satirical show's audience also tends to be younger, and the president may be hoping to build enthusiasm among his base ahead of the vote, analysts say.
"You've got a constituency of younger voters that watch that show, and it's a good place to go and reach them," White House spokesman Robert Gibbs told reporters on Tuesday.
"The president hasn't been shy about going to the places where people are getting their information and trying to make his case."
The president has been on the show four times previously - during the 2008 presidential campaign and during his earlier tenure in the US Senate.
Also this weekend, Stewart and another Comedy Central presenter, Stephen Colbert, are to hold a rally on the US National Mall in Washington, expected to attract legions of young liberal voters.
Meanwhile, campaigning continued at a furious pace across the country.
In Colorado, Democratic Senator Michael Bennet, who is fighting hard to win election to the seat to which he was appointed in 2008, latched on to a video in which his Republican opponent said he did not believe in the official separation of church and state.
Mr Bennet's campaign hoped to use it to portray the Republican as an extreme conservative.
Connecticut Republican Senate candidate Linda McMahon, a political novice who grew wealthy as a top executive at a professional wrestling league, won a minor victory.
A federal judge in the state ruled that her supporters may wear professional wrestling paraphernalia to the polls on Tuesday without violating rules prohibiting electioneering at voting stations.
And in California, Republican Senate candidate Carly Fiorina was released from hospital, a day after she was admitted for treatment of an infection associated with recent breast cancer surgery.