Cagey Barack Obama spars with Daily Show's Jon Stewart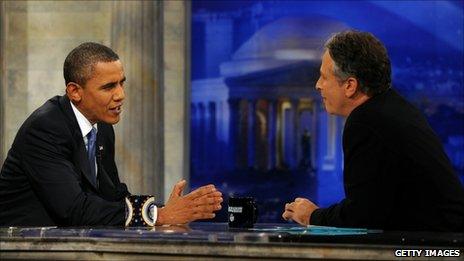 The biggest political news out of Washington DC on Wednesday was not actually news - it was comedy. Or, at least, it was news made on a comedy programme.
President Barack Obama added another note to the history books by becoming the first sitting president to appear on the satirical news programme The Daily Show, hosted by comedian Jon Stewart.
The show is an enormously popular cable television programme, particularly among 18-35 year-old viewers. It mixes sharp, witty commentary on politics, the media and American culture, with slapstick humour and often thought-provoking critiques.
Although Mr Obama had appeared on the show four times as a senator, pundits were unsure what to expect.
Would we see flashes of Mr Obama's often cutting humour, like the time he joked that the perpetually tanned Republican Minority Leader John Boehner was a person of colour, "although not a colour that appears in the natural world"?
Or would the president's off-the-cuff humour get him in trouble, like the time he joked that his ten pin bowling skills were so bad that he should compete in the Special Olympics? He later apologised for that remark.
As it turned out, neither version of the president showed up. Instead, he was serious and earnest, seeming to deliberately avoid wisecracks while mounting a vigorous defence of his administration's actions.
His sober demeanour reflected America's mood, conveying the sense the Mr Obama does not consider the country's economic strife a laughing matter.
For his part, Mr Stewart was somewhat restrained. At one point, looking like he was about to burst during a presidential monologue, Mr Stewart exclaimed: "It's really hard not to talk!"
But Mr Stewart did not ask easy questions, jabbing the president on several occasions.
"So here you are, two years in, and the question that raises in my mind is, 'are we the people we were waiting for?'" Mr Stewart asked in his opening question, referencing a campaign refrain of Mr Obama's.
"Or, does it turn out those people are still out there and we don't have their number?''
Mr Stewart's audience lapped up each exchange, offering rapturous applause for both Mr Obama and his host.
Their enthralled response is not surprising. Mr Stewart's audience mirrors Mr Obama's base - young, educated, left-leaning voters.
The political calculus is obvious: appearing on The Daily Show less than a week before mid-term elections allows Mr Obama to speak directly to the people who supported him most passionately in 2008, and who are perhaps the most disheartened with his progress in 2010.
Polling suggests that the people who propelled Mr Obama to victory in 2008 simply will not step inside a voting booth next week. But Mr Obama needs them to.
During the conversation Mr Stewart was a proxy for these voters, channelling their disappointment in his questions. He accused Mr Obama of being timid in his legislative efforts, particularly after running his campaign with such "audacity".
"Jon, I love your show, but this is something where I have a profound disagreement with you," Mr Obama replied. "This notion that health care was timid."
He argued that the health care reform bill was hugely consequential, covering an additional 30 million people, preventing insurers from dropping patients who become ill and shaving millions from the deficit.
"What happens is it gets discounted because the assumption is we didn't get 100% of what we wanted, we only get 90% of what we wanted, so let's focus on the 10% we didn't get," he said.
At its essence, the interview was a defence of Mr Obama's administration, with respect to those campaign promises which his supporters had so enthusiastically embraced.
Mr Obama was not offering new pledges or ideas. Rather, he was urging the audience to stick with him, determined to convince them that he had delivered on his promises, that his words were not just hot air.
Neither man referenced the Tea Party or the harsh anger of conservatives that has dominated media coverage of politics in the past year. This audience had already made their judgements on the vitriolic campaign season.
Instead both men focused on reconciling the rhetoric of 2008 with the reality of 2010: a 9.6% unemployment rate and little progress on signature issues like climate change and immigration reform.
But being a comedian - Mr Stewart does not consider himself a journalist - the host posed questions cheekily.
"You ran on very high rhetoric, hope and change, and the Democrats this year seem to be running on, 'Please baby, one more chance,'" Mr Stewart said.
That tone perhaps allowed Mr Obama more freedom to vent his frustrations.
"When we promised during campaign 'change you can believe in,' it wasn't change you can believe in in 18 months," he said.
Later, he clarified another of his ubiquitous campaign slogans.
"Yes we can, but," he said, as Mr Stewart erupted in cackling laughter before the president had a chance to cite his caveat.
"It's not going to happen overnight."
Related Internet Links
The BBC is not responsible for the content of external sites.