DC 'bomb plot' man tried to contact militants, FBI says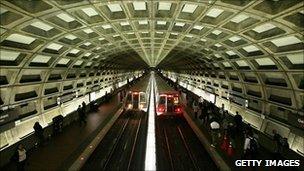 The FBI learned in January that a man arrested over an alleged Washington DC Metro bomb plot tried to contact extremist groups in an effort to fight US forces overseas, the agency says.
Farooque Ahmed and another unnamed person hoped to fight in Afghanistan or Pakistan early next year, FBI agent Charles Dayoub said in an statement.
Mr Dayoub said Mr Ahmed may have acquired weapons in 2008 and 2009.
The 34-year-old was arrested on Wednesday in the Washington DC area.
Mr Ahmed is believed to have used firearms he purchased in May of 2008 and February of 2009 to train for his goal of travelling to Afghanistan to kill Americans, Mr Dayoub said.
Mr Dayoub added Mr Ahmed, a naturalised US citizen originally from Pakistan, had lived in the US since 1993.
A resident of Ashburn in Virginia, Mr Ahmed allegedly conducted surveillance of Metro stations in Arlington, on the outskirts of Washington DC, on four occasions.
He was conspiring with people he believed were from al-Qaeda, the Department of Justice said on Wednesday.
Mr Dayoub's 17-page document was submitted to support a search warrant application.
In the statement, Mr Dayoub lists information on meetings between Mr Ahmed and individuals the Virginia resident thought were al-Qaeda operatives. But those posing as the al-Qaeda members were actually working for the government, a law enforcement official told the Associated Press news agency.
Mr Ahmed was lured by email to his first meeting on 18 April near Washington-Dulles International Airport, Mr Dayoub wrote.
The suspect reportedly told the person he met near the airport that he was there because "he wanted to fight and kill Americans in Afghanistan".
Officials said that on 15 May, at a nearby hotel in Herndon, Virginia, Mr Ahmed agreed to carry out surveillance on a hotel in Washington and a Metro station in Arlington, Virginia, to determine security and the busiest times.
Mr Ahmed, according to the indictment, later provided a USB stick with video of the station to a person he believed was from al-Qaeda. On 28 September, Mr Ahmed allegedly handed over another USB drive with more images of stations.
Mr Ahmed has been indicted on three counts - for attempting to provide material support to a designated terrorist organisation, collecting information to assist in planning a terrorist attack on a transit facility, and attempting to provide material support to help carry out multiple bombings.
If convicted, he faces up to 50 years in prison.