Anna Nicole Smith: Two convicted of drugs conspiracy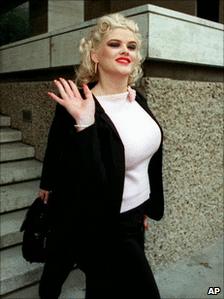 A jury has found late Playboy model Anna Nicole Smith's psychiatrist and boyfriend guilty of helping to give her excessive amounts of prescription drugs but has acquitted her doctor.
Khristine Eroshevich and Howard Stern were convicted of conspiracy charges, and Eroshevich was found guilty of fraud. Dr Sandeep Kapoor was cleared.
All three had denied supplying Ms Smith, 39, with the drugs.
They were not charged over her death in 2007 from a prescription drug overdose.
At the trial in Los Angeles, the trio faced counts of conspiracy, excessive prescribing of opiates and sedatives to an addict and fraudulently obtaining drugs by using false names.
Eroshevich was convicted of conspiracy to provide Ms Smith with drugs and unlawfully prescribing the painkiller Vicodin by fraud. Stern was convicted of two conspiracy counts of aiding and abetting.
The pair are due to be sentenced on 6 January.
Dr Sandeep Kapoor, Ms Smith's doctor, was acquitted on all charges by the court.
Prosecutors had argued the three had used fraud to provide prescription drugs to the late model.
Defence lawyers had said their clients were unaware of Ms Smith's addiction to prescription drugs and were simply trying to help ease her chronic physical and emotional pain.
The jury was asked to decide if the three defendants had given Ms Smith the drugs to relieve pain, or whether they were feeding her addiction.
In Dr Kapoor's case, the jury decided prosecutors had not presented enough evidence that he had provided her with excessive drugs.
The former topless model married Texas oil tycoon J Howard Marshall, a billionaire more than 60 years her senior, at the age of 26.
Ms Smith was accused of marrying simply for money, and spent years after his 1995 death fighting his family over his large fortune.