Yemen arrests student over cargo jet bomb plot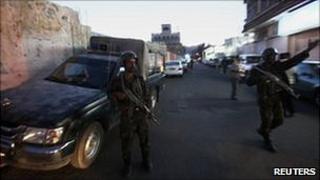 Security forces in Yemen have arrested a female student suspected of posting bombs found on two cargo jets in Dubai and the UK.
She was held at a house in the capital, Sanaa, after being traced through a phone number left with a cargo company. Her mother was also detained.
Dubai and UK officials say the bombs had the hallmarks of al-Qaeda.
US media quote officials as saying a Saudi-born bomb-maker, Ibrahim Hassan al-Asiri, is their prime suspect.
He is believed to be one of the leading figures in Al-Qaeda in the Arabian Peninsula (AQAP) and the organiser of a suicide attack by his brother last year on the Saudi intelligence chief, Prince Mohammed bin Nayef. The prince survived.
UK Prime Minister David Cameron said the device found in Britain was designed to go off on the aircraft.
The two packages were addressed to synagogues in the Chicago area.
Both bombs, discovered on Friday, were inserted in printer cartridges.
'Quiet student'
The Yemeni suspect, detained on Saturday, has been named by rights groups as Hanan al-Samawi, 22.
The authorities initially described her as a medical student, but later reports said she was studying computer engineering at the University of Sanaa and had no known Islamist links.
"Her acquaintances tell me that she is a quiet student and there was no knowledge of her having involvement in any religious or political groups," her lawyer, Abdel Rahman Burman, told Reuters news agency.
"I'm concerned the girl is a victim because it doesn't make sense that the person who would do this kind of operation would leave a picture of their ID and their phone number."
Yemeni President Ali Abdullah Saleh said the US and the United Arab Emirates had provided Yemen with information that helped identify the woman, and he pledged that his country would continue fighting al-Qaeda "in co-operation with its partners".
"But we do not want anyone to interfere in Yemeni affairs by hunting down al-Qaeda," he added.
Further investigations in Yemen are likely to focus on AQAP, which has its stronghold in the remote Shabwa province in the south of the country, the BBC's Jon Leyne reports from Cairo.
Mr Saleh's remarks on interference are presumably a message to Washington to hold off military strikes inside Yemen, our correspondent says.
But he says Washington has been impressed by the speed and determination the Yemeni authorities have shown in their response.
Our correspondent says this latest attempted bomb attack will only underscore fears about the security threat from Yemen, where al-Qaeda is taking advantage of weak government, wild geography and huge political social and economic problems that have no clear solutions.
The New York Times quoted US officials as saying the sophistication of the devices pointed to al-Qaeda involvement.
It quoted one official as saying: "The wiring of the device indicates that this was done by professionals. It was set up so that if you scan it, all the printer components would look right."
Cargo changes
The Yemeni authorities have closed down the local offices of the US cargo firms UPS and FedEx, who have already suspended all shipments out of the country and pledged full co-operation with investigators.
Prime Minister Cameron said the authorities had immediately banned packages coming to or through the UK from Yemen, and was considering further steps.
UK Home Secretary Theresa May pledged to review air freight security.
"Certainly, we have to look at our processes of searching and how we detect these devices," she told the BBC.