Profile: John Boehner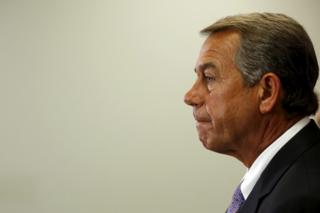 Speaker of the House John Boehner (pronounced bay-ner) has announced he will step down from Congress, ending an almost five-year run in the most powerful position in the US House of Representatives.
Mr Boehner was voted in as speaker three times - most recently in January 2015, after he had led his party to one of the largest majorities in the House in six decades.
But it was a bumpy road. In one of the biggest rebellions in recent history, 25 fellow Republicans, mostly led by the Tea Party, voted against his speakership.
Recent history for Mr Boehner has been tumultuous in many ways. His second-in-command, Eric Cantor, lost his primary election in 2014. Soon after the speaker's vote rebellion, police revealed they had evidence of a barman's plot to kill Mr Boehner - the man will stand trial.
And before he retires from Congress, Mr Boehner faces the prospect of another government shutdown. The conservative wing of his party wants to reject a government funding bill until all money for Planned Parenthood, a women's health clinic that provides abortions, is removed.
The speaker is well used to crisis. His first term was marked by open conflict with the White House as well as division within his own party.
He has attempted to uphold the mantle of the more centrist "establishment" Republicans even as he has faced pressure from the Tea Party to shift the party towards a more conservative ideology.
This dual conflict has meant that he has been a chief interlocutor in conflicts between the White House and conservative Republicans, and overseen major events such as the 2013 federal government shutdown and the "fiscal cliff" before that.
Heavy smoker
Mr Boehner likes to tell the story of his humble origins, one that Republicans have tried to promote over his image as a country club golfer with ties to big business.
He grew up in a two-bedroom house in Cincinnati, the second of 12 children in a devout Catholic family.
Mr Boehner made his fortune with a marketing company called Nucite Sales. He says he became a Republican when he found he was paying more in tax than he had earned a few years before.
First elected in 1990, he rose swiftly among the Republican ranks, mostly because of his involvement in the so-called Gang of Seven - a group of members who exposed a series of financial scandals in Congress.
But his path to the top has not been smooth. In 1998 he was dropped as junior Republican leader in the House in an internal power struggle, before re-establishing himself as chairman of the education committee.
Mr Boehner cites the passage of No Child Left Behind, President Bush's landmark education bill, as one of his proudest achievements.
Elected as minority leader in 2007, he has gained a reputation as a fierce partisan and a skilled negotiator.
Mr Boehner, a heavy smoker with a flair for the dramatic, was an aggressive opponent of the Democrats' healthcare reform legislation.
He admits that his predilection for Camel cigarettes is a bad habit (the Barclays brand he used to smoke were discontinued), but has shown no signs of giving up.
Noting that presidents have restrictions on their lifestyle, Mr Boehner - when asked about future ambitions - told late night TV host Jay Leno: "I like to cut my own grass. I do drink red wine. I smoke cigarettes and I'm not giving that up to be President of the United States."
Spending cuts
His Democratic critics have attacked him as a political insider with close ties to lobbyists, and as one of the architects of the policies that led to the financial crisis.
Sharply dressed, the 65-year-old is used to shrugging off jokes about his perpetual tan - friends say his complexion is just naturally dark.
He tends to be conservative on energy and climate change issues, as well as free trade - important issues in the Ohio rust belt district he represents. He has opposed efforts to cut pork-barrel spending.
At a press conference following the Republican mid-term victory in Congress in 2014, he said it was time for the party "to roll up our sleeves and get to work."
He pledged to push for public spending cuts and job creation, and indicated he would work with President Barack Obama on those policies.
He was also quick to signal that the Republicans could try to roll back healthcare reform legislation, which he referred to as a "monstrosity".
He called the election result "a repudiation of Washington, a repudiation of big government, and a repudiation of politicians who refuse to listen to the people."
As news of his resignation began circulating. his own office said the congressman had originally planned to step down in 2014, but Cantor's shocking loss convinced him to stay on.
But the congressman faced a potential attempt by the conservative wing to remove him from power in the upcoming weeks.
"The Speaker believes putting members through prolonged leadership turmoil would do irreparable damage to the institution," his office said.