US nuclear transport agents seen 'in drunken incidents'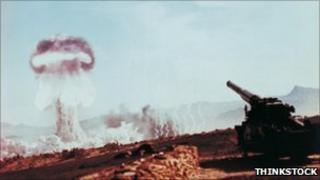 US agents who drive nuclear weapons around the country were involved in 16 alcohol-related incidents in two years, the energy department has said.
One was arrested for public drunkenness and two were held after an incident at a bar while on overnight missions.
The incidents "indicate a potential vulnerability in [a] critical national security mission", an energy department report said.
A spokesman noted agents had never had a fatal accident or radiation leak.
Extended missions
In a newly released report, the Department of Energy's inspector general's office said it had launched an investigation after hearing complaints of alcohol abuse among agents in the Office of Secure Transportation (OST).
OST agents drive nuclear weapons, weapons components and nuclear materials around the country, and are trained to defend the shipments from attack and sabotage.
Investigators discovered 16 "alcohol-related incidents" from 2007 to 2009. Two flagged up as especially worrisome occurred while the agents were on "secure extended missions", during which the convoy vehicles are secured overnight en route and the agents check into hotels.
The Office of Secure Transportation has about 600 trained security agents.
In 2007, investigators found, an agent was arrested for public intoxication; in 2009, two were handcuffed and held by police "after an incident at a local bar".
"OST management took what appeared to be appropriate action in these cases," investigators wrote. "However, in our judgment, alcohol incidents such as these, as infrequent as they may be, indicate a potential vulnerability in OST's critical national security mission."
Investigators declined to make formal recommendations.
"[The] Office of Secure Transportation maintains a highly trained, highly professional force that has safely and securely transported nuclear materials more than 100 million miles (161 million km) without a single fatal accident or any release of radiation," said Damien LaVera, a spokesman for the energy department's National Nuclear Security Agency (NNSA).
"Of hundreds of agents, the report identifies just two cases involving NNSA personnel being intoxicated while on overnight stops during official missions."
The NNSA stressed that there had been no instances of agents drunk-driving while on duty.