ENI signs $17bn Venezuela oil deal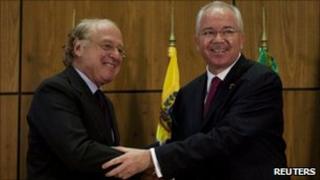 Italian energy company ENI has signed a $17bn (£11bn) deal with Venezuela to develop crude oil fields and build a refinery.
Working with the state-owned oil company Petroleos de Venezuela (PDVSA), ENI will develop a major oil field in the eastern Orinoco river basin.
The two companies have committed to spend $8bn developing the oil field, with ENI taking a 40% minority stake.
They will spend a further $9bn on the refinery, which is to be ready by 2016.
"Within four, five years, Venezuela is going to be the second most important country for our company," said ENI chief executive Paolo Scaroni.
"It is without doubt the biggest joint investment between Venezuela and Italy," said Venezuelan energy minister Rafael Ramirez.
The Junin 5 oil field is expected to produce 70,000 barrels of oil per day by 2012, rising to a peak of 240,000 barrels during the life of the 25-year deal.
The refinery will process 350,000 barrels per day into diesel for the European market.
ENI has also committed to finance a new electrical plant in the country, and is involved in developing an enormous new offshore gas fields along with Repsol of Spain.