Barack Obama's North Korean conundrum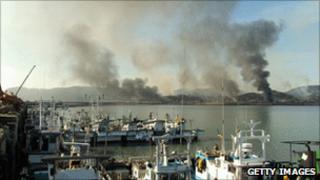 The Obama administration has so far reacted to North Korea's latest and deadly tantrum with cautious outrage, a clear sign it sees no good immediate options for dealing with the reclusive and increasingly unpredictable country.
At dawn, the White House issued a strongly worded statement condemning North Korea's "belligerent action" and urging it to abide by the armistice agreement with its neighbour.
Later, President Barack Obama did offer to defend South Korea.
"South Korea is our ally. It has been since the Korean War," he said on ABC news, in his first comments on the incident. "And we strongly affirm our commitment to defend South Korea as part of that alliance."
But he was careful not to be drawn into discussing any military options.
No-one in the administration has gone as far as describing the border clash which killed two soldiers as an act of war or a breach of the 1953 agreement between North and South Korea that ended the Korean War.
On Tuesday, the North and the South accused each other of starting the incident.
While the US Department of State seemed to have no doubt about who was at fault, the US is also aware that the language it uses could potentially escalate the situation, and state department officials said they would leave it up to the lawyers to decide on the appropriate legal term.
'Deliberate approach'
Meanwhile, the Pentagon has made clear it is too soon to discuss military options.
"We're still monitoring the situation and talking with our allies," Pentagon spokesman Col Dave Lapan said. "At this point it's premature to say that we're considering any action."
State department spokesman Mark Toner said the US would seek a "deliberate approach" in concert with regional allies like South Korea and Japan. The US, he said, would not respond "willy nilly" and was particularly keen not to "buy into the cycle of rewarding" that kind of behaviour.
North Korea has its own internal considerations when it flexes its military muscles. But for its reclusive leaders, the move is also a way to communicate with the outside world and to grab its attention.
The Obama administration has to answer one crucial question: how to ensure Pyongyang gets just enough attention to prevent it engaging in further provocative use of force, without appearing to reward or appease it.
For now, Washington does not seem to have an answer, which is why the Obama administration speaks of a deliberate approach and of consultations with its allies.
For the past few months, officials have been weighing whether it was time to engage with North Korea, two years into a strategy of pressure and tough talk that has yielded no results.
Tough decisions ahead
In August, US Secretary of State Hillary Clinton convened a high level meeting on North Korea to solicit ideas from outside experts and former officials.
"Obama has some tough decisions to make," said Christopher Nelson, a veteran Asia analyst and senior vice-president of Samuels International Associates.
"You have to run the risk of looking like you're rewarding. Neither proliferation nor the risk of war has been reduced. In fact, they've increased, so clearly we have to resume dialogue. It's about finding a face-saving way of doing it so it doesn't look like a victory for the bullies in North Korea."
Much will depend on China, North Korea's closest ally. The country has the most leverage over the North Koreans and has hinted it is time to engage them. But North Korea's increasingly erratic behaviour may also be testing Beijing's patience.
The latest incident comes after the sinking in March of the Cheonan, a South Korean warship, a move that was blamed on Pyongyang. Last week, Stanford University scientist Siegfried Hecker was shown a new, sophisticated and undeclared uranium enrichment facility in North Korea.
Dr Hecker, a respected nuclear expert who has been to North Korea several times over the past few years, was stunned by what he saw. It was clear that the North Koreans were keen to show off their work, knowing he would relay his findings back to the White House.
"This reinforces the idea that the North Koreans are trying in every way to say 'we want to have open diplomatic relations with US'," Mr Nelson said.
But whatever strategy Washington chooses, Mr Nelson said, it would make sure not to be out of step with the South Koreans.
Kim Ghattas is on Twitter: @bbckimghattas