US airports avoid Thanksgiving security delays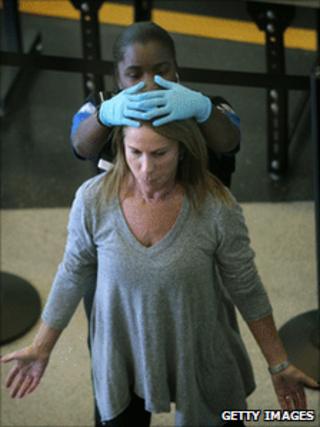 Fears of jams at airport security check points have so far not been borne out, as the US embarks on one of the busiest travel periods of the year.
On Wednesday morning, waiting times at major airports were under 20 minutes.
Security officials had warned a proposed internet-driven boycott of new controversial full-body scans could cause delays.
Millions of Americans are travelling for Thursday's Thanksgiving holiday amid uproar over invasive screening.
At the Minneapolis-St Paul International Airport in the state of Minnesota, Bill and Margaret Selfridge said they had arrived three hours early for a flight to Washington DC, but needed only 10 minutes to pass the check point at 0800.
"Now we get to drink a lot of coffee," Mr Selfridge said.
Meanwhile, the US Department of Homeland Security has proposed scrapping the Bush-era system of colour-coded public terror alerts, a programme for years criticised by Democrats as a political scare tactic.
"It's something that is under review to make it meaningful and relevant to the American people," Transportation Security Administration chief John Pistole said. "I'm just not sure how relevant it is."
Earlier, he had urged people not to disrupt holiday travel by boycotting the scanners.
Radiation emitted
Travellers who refuse to be screened via new full body scanners - in use at about 70 US airports - must undergo an extensive hand search, which includes touching of the genital region and breasts.
Reports suggested few indications of major disruption on Wednesday, expected to be one of the busiest days for travel in the US calendar.
"Though volume was around expected levels, our preparations for today kept wait times at such a minimum that some airports are closing screening lanes due to a lack of passenger throughput," the TSA said on its blog on Wednesday.
Less than 1% of all air travellers in Boston opted out of the full-body scans, a smaller percentage than on a typical day at Boston Logan International Airport, the agency said.
At an airport in Atlanta, out of 30 people asked to go through a full-body scanner during a 30-minute period, just two opted for a pat-down, the Associated Press reported.
One of the opt-outs, Karen Keebler, 54 told the news agency her main concern was the low-level radiation emitted by the scanners, which the TSA says poses no health risk.
"I just think the less radiation the better and if you can opt out, you need to," she said.
Recent polling suggests a large majority of Americans support the use of full body X-ray machines at airports. But about half of the individuals surveyed in a recent Washington Post-ABC News poll said more rigorous pat-downs went too far.
There were several small protests at airports around the country, with some people handing out informational leaflets and others reading aloud from the Constitution, according to the New York Times.
More than 40 million people are expected to travel over the Thanksgiving holiday, with about 1.6 million people taking flights.
BBC News website readers in the US have been responding to this story. Here is a selection of their comments:
There is no security reason for the body scan images to be to scale. A scan image that is 25% wider would show hidden objects more clearly and be much less invasive. The pat-downs are way out of line. I will not fly. As odds go, Americans are much more likely to be hurt or killed on the way to or from an airport than to have their plane attacked by terrorists. I would prefer to remove all the security, take my chance, and use the billions of dollars to feed the poor and educate the children. William Berry, Arizona
I think the full-body scans are a good introduction to airport security. If the speed is efficient in the scanners, it can greatly reduce waiting times. As for the radiation given off, I would like to see some private studies held by multiple sources to ensure that the levels are low enough. Michael Rolen, Tennessee
I am horrified that the government here treats its citizens in such a way. If I was flying today I would certainly opt out of the scanner. Privacy matters aside, the effects of the radiation in the scanners is still not clear, and all the time there is a possible health risk I choose not to expose myself to that. Dr Claire Gregory, California
Due to metal medical implants, I have been patted down for several years. I welcome the scanner. During the pat down, your belongings remain on the conveyor belt and are easy access for someone of questionable morals. Rachel Butler
I have no objections to full body scans, I think it is a small price to pay to ensure safe travel. Kenneth Krieger, Arizona