US may scrap colour-coded terror alerts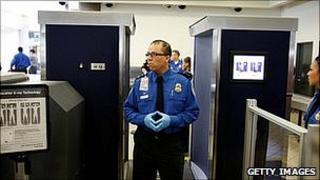 The US system of colour-coded security alerts may be scrapped under new plans being drawn up by security officials.
The Homeland Security Department is proposing to replace the five colours with clearer language to describe the threat from terrorism, officials say.
The current eight-year-old system runs from green, signifying a low threat, to red, meaning severe.
However, critics have dismissed it as being too vague and it has become the butt of late-night talk show jokes.
The US is currently at code yellow for an "elevated" level of terrorist risk.
Correspondents say the system is one of ex-US President George W Bush's most visible legacies, becoming a fixture in airports, government buildings and on news programmes.
Transportation Security Administration chief John Pistole told ABC television that the system was "under review to make it meaningful and relevant to the American people".
He said Homeland Security Secretary Janet Napolitano was taking a "common sense approach".
Officials at the agency confirmed the recommendation to AP news agency but said no final decision on a new alert system had been made.
Department spokeswoman Amy Kudwa said: "We are committed to providing specific, actionable information based on the latest intelligence."