The newly-weds fighting to stop deportation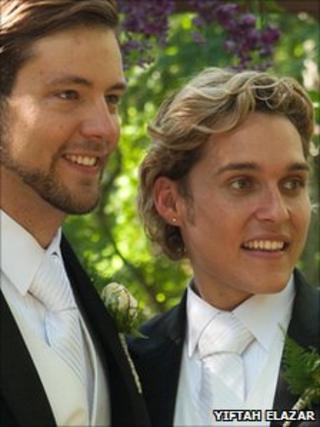 Same-sex couples where one partner is not a US citizen say they fear the prospect of being forced to live apart. While gay marriage is permitted in a small number of US states, federal law prevents same-sex partners from sponsoring their spouse's visa and allowing them to stay in America.
"It was amazing. It was what I'd always imagined," says Joshua Vandiver, reflecting on the day he married his boyfriend Henry Velandia.
The couple, who met in Princeton, had been together for four years before they tied the knot in Connecticut this summer. But, unlike most newly-weds, the post-honeymoon glow is tinged with a feeling of fear about their future.
"I'm very scared that Henry could be torn away from me," says Mr Vandiver. "It's a very frightening thing."
The couple are waiting for the verdict of an immigration judge, who has the power to send Mr Velandia back to his home country, Venezuela.
Mr Velandia's US visa has expired, but he is unable to qualify for a spouse visa, because the couple are in a same-sex marriage.
"We really believe that it is unconstitutional, and it is causing so much damage to many couples like us," says Mr Velandia.
Not recognised
While same sex marriage is legal in five states across America, plus the District of Columbia, the Defense of Marriage Act (Doma), which became law in 1996, says that other states and the federal government do not have to recognise these unions.
Doma defines marriage as "only a legal union between one man and one woman as husband and wife, and the word 'spouse' refers only to a person of the opposite sex who is a husband or a wife".
"Doma means I can't sponsor him for residency," says Mr Vandiver. "If we were a straight couple then the I130 [the form to petition for a relative's visa] would be approved, and Henry would immediately be removed from deportation proceedings."
The pair have started an online campaign and petition, calling for the law to be changed to allow same-sex partners to sponsor their spouse's visa.
Mr Vandiver and Mr Velandia are not alone in their plight, says Lavi Soloway, a New York-based immigration lawyer who is representing them.
He says he is currently working with a dozen couples in a similar predicament, but estimates that there are several hundred individuals across America in the same situation.
"The most important thing we're doing right now is trying to bring this to the attention of the Department of Homeland Security so they can take action to stop the deportation of gay and lesbian partners," says Mr Soloway.
President Obama has called for Doma to be repealed, and an act has been put before the House of Representatives calling for the law to be changed to allow same-sex partners to be sponsored for US visas.
The Uniting Families Act (2009) has 135 co-sponsors, but with a Republican majority set to take control of the House of Representatives when the new Congress convenes in January, it is unlikely to become law.
The Democratic House leadership has indicated it considers repeal of the so-called "Don't ask, don't tell" measure, which prevents openly gay people serving in the military, to be a greater priority than repeal of Doma.
Politicians who oppose a repeal of Doma include Texas Congressman Lamar Smith, the ranking Republican member of the House Judiciary Committee, who has filed two motions to defend it.
Groups such as the Family Research Center believe in upholding Doma, arguing that the law should recognise only traditional definitions of marriage and family.
There are a number of lawsuits pending which challenge Doma's legality.
In one case, District Judge Tauro in Massachusetts ruled that the legislation was unconstitutional, a decision which is currently being taken to appeal by the Department of Justice.
Until the law is changed, the White House accepts that it is the job of the justice department to uphold Doma.
Josh Vandiver will learn early next year whether or not Mr Velandia will be deported. The former has already ruled out the option of starting a new life outside the US.
"We're not going to leave America. I believe very strongly that this is a reasonable request that I'm making as an American to sponsor my spouse," Mr Vandiver says.
"Our life is here together, and we are continuing to work for change here."