Sudan rival armies embroiled in helicopter row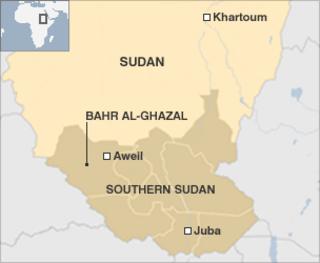 The Southern Sudanese army says four of its men and two civilians have been wounded by gunfire from a northern helicopter.
It accused the Khartoum government of trying to derail a planned referendum on possible southern independence.
However a spokesman for the northern armed forces denied that any clashes had taken place.
A fragile ceasefire has held since 2005, but tension is growing in the run-up to January's referendum.
"Today SAF [northern armed forces] helicopter gunships attacked our position, injuring four soldiers and two civilians," southern army spokesman Philip Aguer said.
"The SAF is trying to drag Sudan back into war again and to disrupt or prevent the referendum."
But he said the southern army was committed to the ceasefire and would not respond militarily.
Northern armed forces spokesman al-Sawarmi Khaled said the claims were "absolutely not true".
"We have not attacked anywhere near the border," he said.
The head of the United Nations in Southern Sudan said a UN team would be sent to the remote area to investigate.
The BBC's James Copnall in Khartoum says the accusation made by the southern army is the latest in a growing war of words as the referendum approaches.
Despite attempts by senior politicians and international mediators to calm things down, the militaries from both sides have traded allegations, and several politicians have made inflammatory comments.
Analysts say the south is almost certain to choose independence if it gets a fair vote.
But there are fears about a return to war around the time of the referendum, says our correspondent.