9/11 dust plaintiffs get one last chance in settlement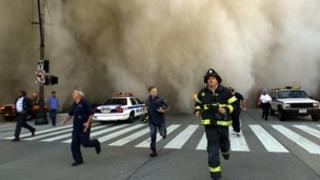 A US judge overseeing a settlement for workers exposed to toxic dust after the 9/11 attacks has said those holding out have one last chance to take the deal.
About 10,000 police, firefighters and construction workers sued New York City over health issues they say were caused by dust from the World Trade Center.
About 95% of the workers involved in the lawsuit joined a group settlement.
But 520 plaintiffs had rejected the offer of a joint payout of at least $625m (£396m) or had failed to respond.
The money is intended to be taken from a federally financed insurance fund of almost $1bn that New York City controls.
The dust and ash being considered in the case, from the collapsed World Trade Center towers, contained particles of asbestos, lead, glass and cement.
'Frustrated'
The deadline to accept the settlement expired last week.
US District Judge Alvin Hellerstein had originally said several days ago that there would be no extension of the deadline, but has now said the outreach will continue until 17 December.
The judge changed his mind after receiving information that some of those holding out in the settlement were no longer speaking to their lawyers.
Among those plaintiffs who did not join the settlement, more than 90 could not be located by their attorneys, Judge Hellerstein said, adding that 135 others had rejected further communication with their counsel.
Mr Hellerstein said he wished to make sure the plaintiffs in the case were not simply giving up because they were disappointed by the work of their lawyers.
"It is not surprising that a relatively small number of eligible plaintiffs have become frustrated by the litigation and settlement processes and have made themselves difficult to locate, unwilling to communicate and desirous of quitting," the judge said.
A special counsel appointed by Mr Hellerstein will offer free legal advice to eligible plaintiffs who missed the deadline.