Wikileaks cables leave Europe angry and irritated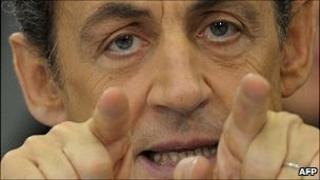 European countries have reacted with irritation to the release by whistle-blowing website Wikileaks of secret memos written by US diplomats.
The messages describe Germany's Angela Merkel as risk-averse and Russia's Vladimir Putin as an "alpha dog".
France, whose President Nicolas Sarkozy is compared to an "emperor with no clothes", said the website was a "threat to democracy".
A selection of 250,000 cables from US embassies were released on Sunday.
France was made aware of the cables before their release, a government spokesman said, and pledged to support the US in defending diplomatic secrecy.
"We have to be very attentive and united at a state level to fight against what is a threat to democratic authority and sovereignty," Francois Baroin told Europe 1 radio.
"The protection of states is something serious, it's about the protection of men, of women, of citizens," he added.
Among the comments released by Wikileaks is a reported conversation in which a senior advisor to the French president branded Venezuelan President Hugo Chavez "crazy" and Iran a "fascist state".
Mr Sarkozy himself was described in cables penned by US diplomatic officials as "thin-skinned" and "authoritarian".
'Feckless' Berlusconi
In Moscow, press secretary Dmitriy Peskov reacted with caution to the secret memos.
"At the moment it is impossible to say anything definite. [We need to look at] the level of the diplomats and officials who are giving such a character description, and in which documents. And in general we need to resolve whether it concerns Putin," Mr Peskov is quoted as telling Russian newspaper Kommersant.
Italian government officials are reported to have dismissed the leaks, which include descriptions of Prime Minister Silvio Berlusconi as "feckless" and "vain".
There were also observations that Mr Berlusconi's penchant for partying meant he was rarely sufficiently rested. His extraordinary closeness to Mr Putin led US diplomats to consider him Mr Putin's spokesman within Europe.
According to German daily Der Spiegel, US Secretary of State Hillary Clinton is reported to have asked US embassies in Moscow and Rome to look into possible personal investments by Mr Berlusconi and Mr Putin which might influence the foreign and economic policies of the two countries.
Italy's Il Corriere newspaper said government officials were breathing a sigh of relief, suggesting they had feared far worse. Mr Berlusconi, the newspaper reports, is said to have "laughed" at the contents of the leaked cables.
But the left-leaning La Repubblica newspaper reported that Italy's foreign minister described the leaks as the "9/11 of world diplomacy".
Turkish Prime Minister Tayyip Erdogan refused to comment on reports in Der Spiegel that US diplomats had described him as surrounding himself with an "iron ring of sycophantic (but contemptuous) advisors", or that Mr Erdogan had "little understanding of politics beyond Ankara".
"We should wait and see," Mr Erdogan said. "First let's see what Wikileaks has in hand, then we will evaluate whether [the] disclosed documents are reliable," he said, describing the website's reliability as "dubious".