Allegations hit brigade's reputation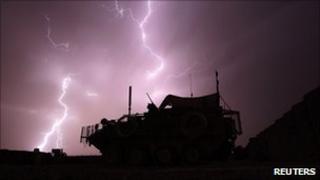 Allegations that 12 US soldiers were part of a group that killed Afghan civilians for sport, have hit the proud reputation of their US Army unit - the since-renamed 5th Stryker Brigade, 2nd Infantry Division.
Based in Fort Lewis in Washington state, the 4,000-strong brigade has been an active player in recent US military operations, and in 2009 was the first "Stryker" combat team to be deployed to fight in Afghanistan.
A Stryker is an eight-wheeled, armoured combat vehicle, lighter and more transportable than most tanks and other armoured vehicles.
Its reputation as a fast-moving, quick reaction combat system is reflected in 5th Stryker Brigade's motto, "Strike and Destroy".
"The Stryker fulfills an immediate requirement to equip a strategically and tactically deployable brigade, capable of rapid movement worldwide," says the Striker Brigade Combat Team website.
Heavy toll
The 5th Stryker Brigade was activated in 2007, and at the time was the the seventh Stryker Brigade in the US Army.
Originally earmarked to go to Iraq, its mission was changed as part of President Obama's "surge" in the number of troops deployed in Afghanistan.
In the summer of 2009, the brigade's 4,000 soldiers became the first US Stryker combat team to be sent to Afghanistan.
A team of journalists from NPR who spent time with them during their operations, observed the dangerous conditions they faced on the frontline as they served in Arghandab Valley, a Taliban stronghold.
"This platoon was supposed to be on light duty back at their base. They had lost seven men just the week before in another roadside bomb attack," wrote NPR's Tom Bowman.
"On this day, they were out on a routine resupply mission down a road they often use, and got hit again," he observed.
More than 30 of the brigade's members died during the tour of Afghanistan, and more than 200 were wounded.
Court martial
One Staff Sgt, Jarrett D. Brown, was awarded the Silver Star medal for his heroism during a firefight in August 2009.
But the court martial proceedings involving 12 of the brigade have cast a shadow over the unit's operations.
Five members of the brigade are accused of the premeditated murder of three Afghan civilians in March of this year at the Forward Operating Base, Ramrod.
Another seven soldiers from the same unit have been charged with conspiracy to cover up the alleged murders.
The military hearings will take place in the military court at the Joint Base Lewis-McChord base and have been described by some commentators as the most serious war-crimes hearings relating to the Afghan conflict.
All those involved deny any wrongdoing.
The 5th Stryker brigade, 2nd infantry division returned from its tour of duty in July 2010. It has since been renamed as the 2nd Stryker Brigade Combat Team, 2nd Infantry Division.