Major methamphetamine haul seized in Georgia raid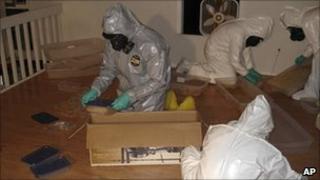 Investigators seized close to half a tonne of the drug methamphetamine just outside the city of Atlanta in one of the biggest such finds in US history, authorities have said.
Police uncovered the haul, with an estimated street value of $44.6m (£28.6m), during a raid on a home in Norcross in the state of Georgia.
Crystal methamphetamine and liquid methamphetamine oil were discovered in a large drug lab, the authorities said.
The find totalled 983lb (445kg).
The home targeted in the investigation was being "strictly used for the production of methamphetamine", police said in a statement, adding that the seizure was thought "to be one of the largest methamphetamine confiscations in the United States".
"This would feed hundreds and hundreds of addicts and destroy who knows how many lives, countless lives," said federal Drug Enforcement Administration official Rodney Benson.
Investigators suspect a Mexican-based drug trafficking organisation of involvement in the operation, but have not yet determined what group is responsible.
Jose Galvez-Vela, 33, was arrested in Texas and charged with trafficking in methamphetamine, police said.
Methamphetamine, which also goes by the street names "speed" and "crank", is an addictive stimulant often made in home laboratories.