Nutria fur: From Louisiana swamps to New York catwalks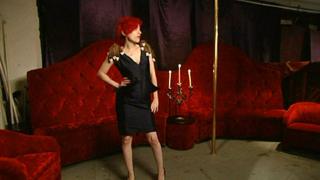 Can fur be guilt free in everyone's eyes? In New York City, the BBC's Laura Trevelyan talks to people who hope to rebrand nutria pelt as environmentally friendly, cruelty-free fur - and take it from Louisiana swamps to Manhattan catwalks.
Model Paige Morgan poses in a blue silk dress draped with strips of what was once a swamp rat. Tiny clay skulls with jewel eyes hang off the ends of the glossy brown fur.
Fur from the swamp rat, or nutria, was popular in the 1930s among Hollywood starlets like Greta Garbo, who liked to wear nutria coats.
The gerbil-like animals - also known as coypu - were originally imported from South America, but when fur began to fall out of fashion in 1980s, the animals were released from Southern fur farms into the wilds.
'Why not fur?'
The population exploded, and in the US state of Louisiana the swamp rat is now regarded as a menace, nibbling away at the fragile coastal wetlands and causing serious erosion.
Trappers are paid to kill the swamp rats there, and young designers asked themselves, if the rodents are being killed anyway by bounty hunters and their rotting carcasses are piling up, why not design with the fur?
At a nutria fur fashion show in an achingly trendy warehouse in the Bushwick neighbourhood of New York City's Brooklyn borough last month, Ms Morgan modelled designer Alicia Zenobia's dress, wearing vertiginously high heels and a Cruella De Vil-style pompadour wig.
Ms Morgan says wearing nutria fur is not like wearing mink or rabbit.
"They aren't electrocuted, they aren't tortured," she says, stroking the fur strips on her shoulder.
"They aren't bred in cages, they've lived natural lives in the swamp... You're not encouraging the farming of an animal just for the sake of a coat."
Animal activists unconvinced
Ms Morgan hopes the nutria has a future on the runway, rather than being left to rot in the swamps of Louisiana.
Indeed, designers including Oscar de la Renta, Billy Reid and Michael Kors have used nutria fur as trimmings in their recent collections, a step on to the catwalk for a pelt normally used just to line coats.
At third-generation Manhattan furrier Henry Cowit, Steve Cowit says nutria's revival is as much about economics as ethics.
The floor-length mink coat, long a Manhattan status symbol and a sign of Upper East Side grandeur and elegance, is now coveted by China's wealthy, he says.
"In China demand for mink is huge, as the newly rich there want to buy coats," he explains. "So the price of mink has shot up compared to the price of nutria."
But animal rights activists remain unconvinced that donning a nutria coat is less cruel than wearing mink.
Ashley Byrne, of People for the Ethical Treatment of Animals (Peta), says fur is still fur.
"First of all, the nutria shouldn't be slaughtered like this, and secondly that's no excuse for parading around in their fur," she says firmly.