Ronni Chasen murder: 'Person of interest' kills himself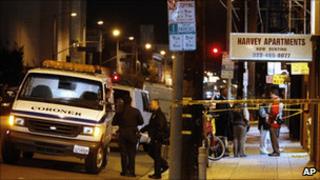 A man sought for questioning over the murder of a prominent Hollywood publicist shot himself dead as investigators approached, police say.
Los Angeles detectives investigating the shooting last month of Ronni Chasen had traced the man to a hotel.
Police have described the man as a "person of interest only" and said the investigation continues.
Last month Ms Chasen was shot in the chest in her car, which then crashed into a lamp post in Beverly Hills.
Ms Chasen, 64, had just attended the premiere of the Cher movie Burlesque, which she had been promoting.
The attack shocked Hollywood, where Ms Chasen was a revered figure. She promoted the Oscar-winning film "Driving Miss Daisy" and other major movies and stars since the 1970s.