Judge delays overturn of Ontario anti-prostitution laws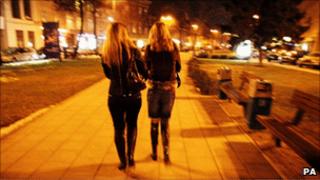 An Ontario court has delayed the overturning of the Canadian province's anti-prostitution laws pending a government appeal.
A lower court in September ruled bans on brothels, soliciting and pimping violated prostitutes' right to safety.
Many sex workers had celebrated that ruling, but Ontario asked for a delay while its appeal is heard.
The ban is now to remain in place until April, forcing the government to expedite its case, officials said.
The provincial government had argued that if the laws were thrown out Ontario would be left with a regulatory vacuum.
Ontario Appeals Court Justice Marc Rosenberg agreed, ruling an immediate overturn of the anti-prostitution laws would be harmful to the public.
In an earlier 131-page ruling, in September, Judge Susan Himel found national laws banning brothels, solicitation of clients and managing sex workers violated a provision of the constitution guaranteeing "the right to life, liberty and security".
She said the laws forced prostitutes to choose between their liberty and their personal security.