US House votes to keep Bush middle class tax cuts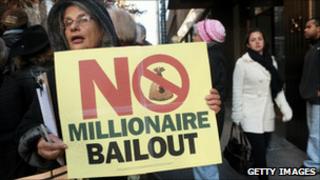 The US House of Representatives has passed a bill that would extend tax cuts for middle-class Americans while letting them lapse for the wealthy.
The Democratic-led bill keeps tax rates low for Americans making less than $200,000 (£128,122) a year.
Those rates were enacted by President George W Bush and the Republicans in 2001 and 2003.
The bill is expected to fail in the Senate, where Republicans favour low rates for all taxpayers.
The tax cuts are due to expire at the end of this year.
Rates for all US taxpayers would then rise, potentially hindering the country's fragile economic recovery by decreasing the amount of money Americans have available to spend.
Negotiations on tax issues continue between the White House and Republican leaders, following a bipartisan summit on Tuesday.
Recession fears
The bill passed by 234 votes to 188 in the House would permanently extend the lower tax rates for individuals making less than $200,000 a year and for households making less than $250,000 a year.
The House measure is expected to fail in the Senate, where the Democrats lack the votes to push it through against Republican opposition.
The Republican Party favours extending the Bush tax cuts for all taxpayers, even though that move would add billions of dollars to US budget deficits.
President Barack Obama favours the House approach, and on Tuesday cited "broad agreement" that taxes on middle-class Americans should not rise on 1 January.
"The president continues to believe that extending middle-class tax cuts is the most important thing we can do for our economy right now and he applauds the House for passing a permanent extension," White House spokesman Robert Gibbs said.
He said negotiations with the Republicans were "ongoing and productive" but that an agreement had not yet been reached.
"Any reports that we are near a deal in the tax cuts negotiations are inaccurate and premature," Mr Gibbs added.
The BBC's Iain Mackenzie in Washington says that allowing the tax cuts for higher earners to lapse would hit the richest 2% of Americans.
Mr Obama's opponents claim those people are the country's job creators and punishing them during a recession would damage the economy, our correspondent says.
Senate leaders are planning a series of votes on tax proposals on Friday, on both Democratic- and Republican-backed measures. None is expected to get the 60 votes needed to pass.