John McCain says US gay troops ban repeal 'premature'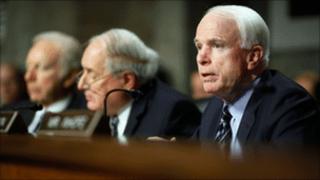 A chief opponent of President Barack Obama's bid to allow gays to serve openly in the US military says the current repeal effort is "premature".
"I am not saying this law should never change," Republican Senator John McCain said, but that it should not be done now and in the way the president wants.
Sen McCain spoke at a Senate hearing on the "don't ask, don't tell" policy.
A Pentagon study released on Tuesday found allowing gay troops would carry only a low risk to fighting ability.
Delay 'risks disarray'
At the hearing of the Senate Armed Services Committee on Thursday, US Defence Secretary Robert Gates and top uniformed military officials urged Congress to repeal the 17-year-old ban on gay troops serving openly - and allow the Pentagon to lift the ban on its own timetable, rather than that of federal judges.
They warned that federal courts had already found the ban unconstitutional and said a final ruling forcing the Defence Department to allow gays to serve openly would throw the military into disarray.
Under the "don't ask, don't tell" policy, which was passed in 1993, gay and lesbian personnel may serve in the US military but can be expelled if they reveal their sexual orientation or if the chain of command learns about it.
The new Pentagon study broadly supports arguments by opponents of the "don't ask, don't tell" policy that the US military could adjust to openly gay comrades.
It found that 70% of those who replied said the presence of an openly gay or lesbian servicemember in his or her immediate unit would have "positive, mixed or non-existent" effects on the unit's ability to "get the job done".
But Republican supporters of the ban on openly gay troops on Thursday questioned its methodology. And they focused on findings that combat troops are uneasy about the prospect of serving alongside gay comrades, and portions that show a significant number said they would leave the service if the ban were repealed.
"Training will help mitigate these consequences," Mr Gates said.
Legislation that would repeal the ban contingent on certification by the president and the Pentagon that the repeal would not hinder military readiness has passed the House of Representatives. In September, Senate Republicans blocked a vote on the bill.
Mr Gates and Adm Mike Mullen, chairman of the joint chiefs of staff and the top military adviser to the president, rejected arguments by Republican ban supporters that the US should not implement such a change while engaged in two wars.
"We've got thousands of men and women who are willing to die for their country but we ask them to lie about who they are every single day," Adm Mullen said.
"And I just fundamentally think that is wrong."