House censures Charles Rangel over ethics violations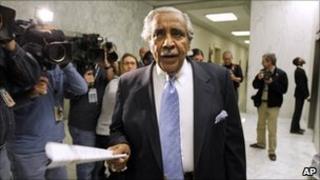 Veteran New York Democratic Congressman Charles Rangel has been censured by the US House of Representatives for ethics violations.
The House earlier rejected calls by some congressmen to reduce punishment for the 80-year-old lawmaker.
Mr Rangel was found guilty of failing to disclose income and pay taxes on rental property, among other charges.
The lawmaker stood in front of the chamber while Speaker Nancy Pelosi read the formal censure resolution.
The House voted by 333 to 79 to censure Mr Rangel. It was only the 23rd time the House has invoked the most serious punishment it can order short of expulsion.
Mr Rangel, who was found guilty of 11 ethics violations last month, said he was sorry he had put fellow House members in an embarrassing position, but added that he felt good.
"I know in my heart that I am not going to be judged by this Congress, but I am going to be judged by my life," he said.
'Serious mistakes'
Before the vote Mr Rangel acknowledged he had made "serious mistakes".
Some Democratic and Republican lawmakers in the House said Mr Rangel did not deserve such severe punishment.
Mr Rangel was first elected to Congress in 1970 from a heavily Democratic district in New York City's Harlem district.
Despite the charges against him, he won re-election on 2 November with 80% of the vote.
He stepped down as chairman of the House Ways and Means Committee, which handles tax legislation, amid the ethics allegations in March.