House passes $4.5bn in new school meal funds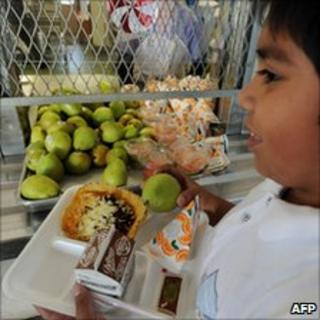 The US House of Representatives has passed a bill that will provide more free school meals and let the government set nutrition guidelines.
The bill, which passed by a margin of 264 votes to 157, pledges $4.5bn (£2.9bn) in extra funds over 10 years.
The money will help the government pay more to schools to provide free meals and give more children access to school lunches and after-school meals.
The bill will now go to President Barack Obama to be signed into law.
The Senate passed a version of the Child Nutrition Act in August.
Under the new law, the US Department of Agriculture would be able to set nutrition guidelines for foods sold in schools, including in vending machines, and provide money for school gardens and farm-to-school programmes.
First Lady Michelle Obama, who has been outspoken on the issue of children's nutrition, said the bill would "play an integral role in our efforts to combat childhood obesity".
The legislation should also help many children who do not receive enough food at home. Almost 15% of US households experienced a food shortage at some point in 2009, a government report found.
House Republicans largely voted against the bill, saying it was too costly and an example of government overreach.