Disabled freighter safe in Bering Sea with 20 crew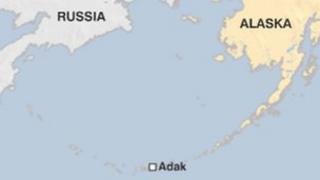 A freighter carrying a cargo of fuel oil and canola seed is safe in the Bering Sea after being reached by a tug, the US Coast Guard has said.
The 732ft (223m) Golden Seas, with 20 crew on board, had issued a distress call in rough seas about 60 miles (96km) north-west of the small community of Adak, in Alaska.
The main engine of the Greek-owned ship reportedly failed early on Friday.
The tug's arrival has eased concerns that the ship could run aground.
The two vessels are now expected to reach Dutch Harbor, some 275 miles (442km) from the scene of the distress call, early on Monday.
The vessel was carrying more than 457,500 gallons (2,050,000 litres) of bunker oil, close to 12,000 gallons of diesel fuel and 10,000 gallons of lubricating oil, Petty Officer David Mosley said.
The Liberian-flagged vessel was also carrying an unspecified amount of canola seed, which can be crushed to produce vegetable oil and is also used in animal feed.
Dana Warr Coast, chief petty officer with the US Coast Guard, told The Associated Press that although the tug and tanker were encountering 20ft (6m) waves, conditions were expected to improve over the next 24 hours.
There have been no reports of injuries among those on board the ship.