Texas court to rule on death penalty constitutionality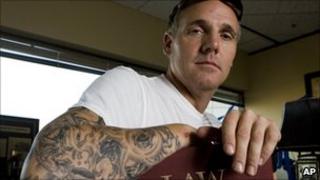 A Texas judge is considering whether the death penalty is constitutional, in an unusual hearing ahead of a trial.
The defendant, John Edward Green Jr, is accused of fatally shooting a woman in her driveway in front of her children and could be sentenced to death.
Judge Kevin Fine consented to Mr Green's legal team's request to review the use of the death penalty.
But prosecutors said they would not participate and would "stand mute" during the legal proceedings.
Despite the prosecutors' decision, Judge Fine ordered the hearing to move forward, and Mr Green's lawyers began calling witnesses.
The judge's review of the use of the death penalty is being seen as atypical, as judges typically reject such routine requests by a defendant's legal team.
Experts in forensics, confessions and eyewitness identification will testify at the hearing, which could last up to two weeks.
The impact of a ruling that the death penalty is unconstitutional is not clear, but may be largely symbolic.
As a district court judge, Judge Fine does not have the power of higher court judges to require other judges to follow his ruling.
But the case will continue to be watched closely, particularly by courts in other states, including Illinois, where debates over the death penalty are raging.
Wrongful convictions
The first witness called by Mr Green's lawyers was Richard Dieter, the executive director of the Death Penalty Information Center - a Washington DC-based nonprofit group.
Mr Dieter said the centre's review of exonerations of death row inmates had shown that past faulty eyewitness testimony, unreliable informant testimony and false confessions had contributed to the conviction of innocent people.
Throughout the hearing, Mr Green's legal team is expected to focus on the problem of wrongful convictions and recent exonerations of individuals who were sent to death row on the basis of faulty evidence.
Unusual judge
Texas judges are elected, not appointed. Judge Fine is anomalous in heavily Republican Texas - he is a tattooed Democrat who has identified himself as a recovering alcoholic and a former cocaine user.
Prosecution lawyers have unsuccessfully attempted to remove Judge Fine from the case. They accused him of "antagonism against the death penalty" in court documents and expressed doubt over his impartiality.
They also argue that the death penalty is settled case law and does not need to be examined.
Since the resumption of the death penalty in Texas in 1992, Harris County, where Judge Fine serves, has sent more prisoners to death row than any other. Of the 286 death sentences in Harris County, 115 prisoners have been executed.