US treasury stockpiles billions in flawed $100 bills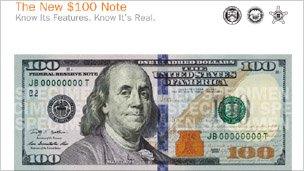 A printing error has forced the US to stockpile $110bn (£69.78bn) in new $100 notes until officials can sort and destroy the flawed bills.
A snag in the printing process left up to 30% of the notes with a blank patch on the face, US network CNBC reported.
Officials are working to devise a mechanical process to sort the flawed bills. Doing so by hand would take up to 30 years, officials said.
The new, high-security notes were to begin circulating in February 2011.
"We are confident that a very high proportion of the notes will be fit for circulation," Treasury Department spokeswoman Darlene Anderson said.
The bills, which represent an estimated one-tenth of the value of all US currency in circulation, are being held in US government facilities in Washington DC and Fort Worth in the state of Texas.
They are the latest in a series of redesigns of US currency intended to fight counterfeiting. The bills are also the first to bear the signature of President Barack Obama's Treasury Secretary, Timothy Geithner.
US news media reported the high-quality cotton and linen fibre stock creased during production of some of the bills, yielding a portion that was not printed.