Hispanic farmers fight for discrimination settlement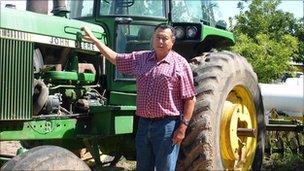 Black and Native American farmers will be paid $4.6bn (£2.9bn) in compensation for decades of discrimination at the hands of US government officials, under landmark legislation just signed by President Barack Obama. He says the deal "closes a long and unfortunate chapter" in the history of the US Department of Agriculture, but Hispanic farmers and women who suffered similar discrimination say they are still fighting for fair treatment.
Lupe Garcia still struggles to keep his voice steady when he describes how government discrimination forced him to sell his family farm nearly 20 years ago.
His face remains impassive, but there is an underlying tone of bitterness as he speaks softly about the way he and thousands of other Hispanic farmers were treated in the 1980s and 90s.
"The USDA programmes in the past were influenced by the county agriculture committees, which were regulated by people I call the good ole boys," he says.
"I couldn't believe it, but I felt it right away - the favouritism that the banks and the government showed our white brothers."
Like most farmers in the US, he and his family were entitled to grants and low interest loans, particularly when harvests were poor due to weather or other circumstances outside their control.
But while his non-Hispanic, white neighbours received payments on time, he says his were delayed or the paperwork was mislaid.
"We fell behind in getting the money we needed to plant seeds for the next harvest, and every year was getting worse and worse," he says.
He adds: "I started getting talk-back from my neighbours on the committees."
"One asked me what I was doing, said that I was wasting my time. He said I should give up, that they would do everything in their power to get my farm - and they did. And they got it."
Unable to continue farming and deeply in debt, Mr Garcia, 57, submitted to foreclosure and his 628-acre family farm in New Mexico was sold to a neighbour for a fraction of its market value.
He estimates the government now owes him around $4m in compensation.
Larry Chavarria, a 56-year-old Hispanic farmer, tells a similar story.
For three generations his family owned a 640-acre farm in one of the country's most fertile regions in central California.
They successfully grew watermelons, cantaloupes and cotton, until bad weather in the 1990s devastated harvests and the government declared a disaster.
That enabled farmers to access emergency relief including low interest loans.
But when the Chavarrias applied to the US Department of Agriculture for assistance, Mr Chavarria says they were accused of falsifying paper work and of not having enough education to farm properly.
Two years later, they won an appeal against the decision, but it was too late. By then, they'd accrued insurmountable debt and were forced to sell the family farm.
"They choked us out," says Mr Chavarria, who is now a prison corrections officer and drives past his former home every day on his way to work.
"My heart hurts when I see it," he says.
"To this day I have no idea why they looked at us differently and why they took against us. You've no idea what we've been through - the self-esteem that's been taken away."
'Widespread discrimination'
The Obama administration accepts that the USDA was guilty of widespread discrimination for many years and is expected to offer a settlement totalling $1.3bn.
But payments to individual Hispanic farmers are likely to be capped at $50,000 (£31,000).
"It's a disgrace. Are they just laughing at all of us?" asks Mr Garcia.
"When Mr Obama was elected we had hope because the past administration just ignored us and dragged this on for eight years," he adds.
"Now it seems everybody else is getting settled, yet Mr Obama has forgotten the Hispanics."
"We are the same as the other minorities, and I hope the president and Congress will give us the respect that we are due and not this $50,000 cap," he says.
Tens of thousands of black farmers have also been offered $50,000 tax free payments but have the option to decline the money and seek higher awards through an arbitration process.
A separate agreement also marks a historic step for Native American farmers, who suffered discrimination and were victims of mismanaged land trusts.
In announcing the settlements, President Obama said the legislative achievements reflected important progress but that much work remained to be done and that his administration would continue to work to resolve the claims of past discrimination made by women and Hispanic farmers.
But time is running out, according to the lawyers representing a thousand Hispanic farmers including Mr Garcia and Mr Chavarria.
"This settlement is fundamentally flawed and in itself discriminatory," says Steven Hill, of the Washington-based law firm Howrey.
"We are hopeful that the administration will at some point come to its senses and give us a fair and just settlement for these farmers, but if they don't, we may have to resort to other options."
Mr Hill declined to give a deadline for further action, which could involve additional court proceedings and delay compensation that has already taken several years.
But he wants to secure a two-track settlement similar to that offered to black farmers:
Track A - a $50,000 payment, with tax and debt relief if it can be proved that the debt accrued was the result of discrimination
Track B - additional compensation with no limit if it can be proved that damages exceeded $50,000
Part of the problem facing women and Hispanic farmers is that the courts have not recognized their complaint as a class-action lawsuit, which means each case has to be judged on its individual merits instead of being resolved through a single court ruling.
The US Agriculture Secretary Tom Vilsack says it's impossible to know how many farmers have legitimate claims until the cases come to court.
"This will take, obviously, some time," he says
"So I think it is premature for anybody to make a determination about equity or inequity."
"There has been a concerted effort by President Obama and by his USDA to do what has not been done in many cases for 10, 15, 20, and in some cases 30 years, which is to try to resolve as many of these cases in as fair and equitable a way as possible," he says.
"I think it is an historic opportunity for us to close the chapter on what has been a sordid chapter of civil rights in this USDA."
But Hispanic farmers say the matter is far from over.
"The nub of the settlement with black farmers and Native Americans was a low cost, two-track claims resolution process," says Mr Hill.
"But for reasons that make no sense whatsoever, the government is refusing to offer Hispanics and women farmers the same," he says.
"It's a fundamental denial of equal protection."
Related Internet Links
The BBC is not responsible for the content of external sites.