US hunts for Tanya Shannon after fatal Illinois crash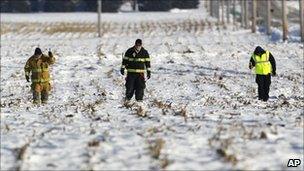 Investigators have found very few clues after three days of searching for a woman in Illinois who vanished after a car crash that killed her husband.
Footsteps in the snow leading away from the crash site, a slipper and her description remain as the only clues.
Tanya Shannon, a 40-year-old mother of four, was last seen on Sunday wearing a red dress and driving home from a holiday party with her husband.
"It's just one of those weird situations," said Sergeant Jeff Whalen.
Police found a pair of footprints leading away from the crashed car, following the discovery of the vehicle in the town of Seneca.
The couple's car appeared to have spun out of control in the snow and hit a utility pole, breaking Dale Shannon's back, authorities said.
A slipper, which Ms Shannon may have worn after changing out of her high heels, was also found near the crash site.
Rescue workers employed the use of metal detectors and a helicopter in frigid temperatures on Tuesday, as the search expanded into a third day just miles from the couple's home.
Ms Shannon, who may have attempted to run for help following the crash, could be dead and her body may be buried in the snow, police said.
But investigators have not ruled out the possibility the part-time waitress could still be alive.