US soldier Bowe Bergdahl appears in Taliban video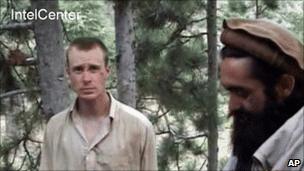 The Taliban in Afghanistan has released a fourth video showing a US soldier captured in June 2009.
The clip briefly shows Specialist Bowe Bergdahl looking gaunt, with bags under his eyes and a cut on his cheek.
The soldier appears with a Taliban commander who last year reportedly threatened to kill him if the US did not halt air strikes in two districts.
It is unclear when the video was made. The US and Nato have condemned the videos as propaganda.
The video, the fourth showing Spc Bergdahl, features footage of militant attacks. It was released by a video production firm affiliated with Taliban insurgents, the Associated Press news agency reported.
Spc Bergdahl, the only US serviceman known to be held captive in Afghanistan, is shown only briefly and is not the main focus of the clip.
He appears alongside Mawlavi Sangin, a local Taliban commander who through a spokesman threatened to kill Spc Bergdahl last year, AP reported, citing private intelligence firm IntelCenter.
Spc Bergdahl, from the US state of Idaho, disappeared under mysterious circumstances. The Taliban confirmed it was holding him, saying it had found him drunk after he had left his post in Paktika province.
News media reported he had walked away from his base, leaving his weapon and body armour behind.