US tax cuts: Obama 'refused to play Russian roulette'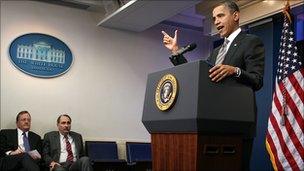 A top aide to President Barack Obama has said the president refused to play "Russian roulette" in negotiating a tax deal with Republicans.
David Axelrod said Mr Obama was forced to keep lower tax rates for the rich in order to extend unemployment pay.
Vice-President Joe Biden was to lobby House Democrats to back the plan the White House forged with Republicans.
Meanwhile, a new poll shows only a third of Americans support keeping taxes low for wealthy Americans.
Mr Obama and the congressional Republican leadership on Monday reached an agreement that would extend for all earners for another two years the low tax rates passed in 2001 and 2003 under President George W Bush.
The deal also included an extension of unemployment benefits and tax breaks for middle-class Americans, concessions Mr Obama said he had wrung from the Republicans.
Mr Obama and the Democrats have opposed keeping tax rates low for Americans earning more than $250,000 (£158,418) at a time of massive budget deficits, but Republicans have refused to consider legislation that would allow them to rise.
Congressional Democrats, whose support will be needed to enact the president's proposal into law, have been lukewarm on the deal, forcing the president into the unusual and awkward position of lobbying his own party.
"The response has not been very good," said House Speaker Nancy Pelosi, one of Mr Obama's chief supporters in Congress.
White House economic adviser Larry Summers said on Wednesday that failure to pass this bill "in the next couple weeks would materially increase the risk that the economy would stall out and we would have a double-dip [recession]."
"As much as we regret the elements in it that do not seem to us to be a good use of public resources, on balance the benefits to the economy make this a very worthwhile deal," he added.
Earlier, Mr Axelrod said he believed Democrats would support the deal when they considered that without it, unemployment benefits would dry up for millions of Americans, and that middle-class taxpayers would see take-home pay decrease as rates went up.
"We're not going to play Russian roulette with the lives of the American people, with all the millions of people that are going to lose their unemployment insurance right now without this bill going forward," Mr Axelrod told ABC television.
A poll released on Wednesday by Bloomberg shows that only 35% of Americans support the Republican-backed provision of the plan that would extend low tax rates to high-earning Americans.
Meanwhile, the US government's cost of borrowing has risen sharply on markets in response to the tax deal.
The yield on 10-year US government bonds has risen from 2.9% to 3.2% in the last two days.
Markets are reacting to the higher level of borrowing that maintaining the tax cuts and benefit extensions would mean, as well as expectations that the package will help boost US growth and inflation.
However, the higher bond yields are likely to feed through into higher interest rates on new home loans in America, at a time when the housing market remains severely depressed.