Actor Wesley Snipes begins prison term for tax evasion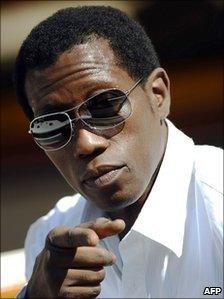 Actor Wesley Snipes has arrived at a federal prison in the US state of Pennsylvania to start a three-year sentence for tax evasion.
Snipes arrived shortly before a 1700 GMT deadline at the Federal Correction Institution McKean in Lewis Run.
The 48-year-old star of the Blade films was convicted in Florida in 2008 of failing to file tax returns.
In a TV interview on Tuesday night, he said he was not nervous about reporting to prison.
Federal Bureau of Prisons spokesman, Ed Ross, confirmed Snipes had arrived, adding: "He'll go through an orientation process and will begin serving his sentence."
Snipes's lawyer says the case contains irregularities and the White Men Can't Jump and Demolition Man actor will seek a review.
The prison houses 300 inmates, is minimum security and has no perimeter fencing.
However, there are five roll calls a day, three of them overnight, Associated Press news agency reports.
Snipes, who earned millions for the Blade series, can spend less than $300 a month in prison facilities.
A spokeswoman for McKean, Shirley White, told AP: "We recognise that he is high profile, but we treat all our inmates the same."
On CNN's Larry King Live on Tuesday night, Snipes said the press had misrepresented his case and he was upset the legal system had not worked in his favour.
He said he did not blame his accountants but had relied on them.
Snipes had appealed to a court in Atlanta in the US state of Georgia after being found guilty by the jury in Florida. But the court upheld the conviction and sentence.
The actor's lawyers then argued last month that Snipes had a legal right to remain on bail while they prepared a fresh appeal.
Snipes's lawyers also said at hearing in the town of Ocala in Florida last month that jurors should be interviewed about whether they had perjured themselves by stating during jury selection that they did not have preconceived opinions about the actor.
At the time of his conviction in April 2008, prosecutors said Snipes had earned more than $37m (£24m) in gross income between 1999 and 2004, but had not filed tax returns or paid any federal taxes.