US authorities burn California 'bomb factory'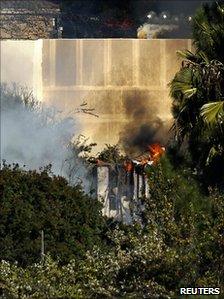 The US authorities have set fire to a house in California packed with homemade explosives which were allegedly assembled by the home's former occupier.
Officials said the home in the town of Escondido contained so many explosives, they had no choice but to burn it down.
Neighbours were evacuated before officials ignited the fire.
George Jakubec, 54, has pleaded not guilty to charges of making destructive devices and robbing three banks.
Officials had concluded that the house was too dangerous to go inside and decided the best way to destroy the residence was to burn it down.
Remotely controlled explosive devices were used to ignite the home and the blaze was monitored for potential health problems using helicopters and air pollution sensors.
Crews built a 16ft (4.8m) wall around Mr Jakubec's house last week and coated it with fire resistant gel on Thursday to shield the neighbourhood from the fire and any unexpected explosions during the burn.
"It will burn very hotly, very quickly," said San Diego County Sheriff's Department spokeswoman Jan Caldwell, adding that the fire is expected to be out within four hours.
"We want everybody to do this job safely and go home to their family."
Investigators recovered nine detonators, 13 grenade casings and various quantities of high explosives when inspecting the home last week.
Mr Jakubec, a Serbian-born, unemployed software consultant, allegedly assembled an astonishing quantity of bomb-making materials, some of which were similar to those used in mid-air terror plots.
Police were first called to the residence on 18 November when a gardener caused a small explosion in Mr Jakubec's backyard.
Mr Jakubec also faces one count of attempted bank robbery. All the alleged bank robberies were committed in 2009 and 2010.
Marina Ivanova, Mr Jakubec's estranged wife, told the San Diego Union-Tribune newspaper last week he was obsessive about his "hobby".
Related Internet Links
The BBC is not responsible for the content of external sites.