Educational programme brings foreign students to DPRK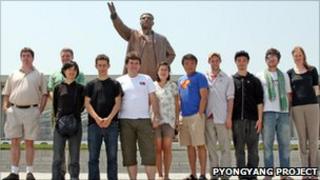 The Pyongyang Project is an educational programme that takes university students and professors from the US, UK, Canada and other nations and brings them inside secretive North Korea in an effort to engage directly with its students and citizens.
Its young organisers say the scheme is reaching heights government bodies never could.
Matthew Reichel, an enthusiastic 23-year-old Brown University graduate, began work on the project, along with co-founder Nick Young, during his fourth year at university, after scheduling meetings with North Korean government officials at consulates in the US and China.
The programme is a grassroots initiative and non-profit organisation aimed at sidestepping slow-moving, governmental attempts at foreign relations by fostering a direct dialogue between young people in North Korea, the US and the rest of the world, Mr Reichel says.
"The US and North Korea don't have established relations, and talks are indirect at best. And what we believe is that there is a need for a grassroots level of engagement that we haven't seen yet between citizens," Mr Reichel says.
"We feel that education is the best ice-breaker," says Mr Reichel, adding that the way the media has "spun" the Democratic People's Republic of Korea (DPRK), or North Korea, has thus far "been very one-sided".
Educational anomaly
The Pyongyang Project is currently the only educational programme of its kind, though several non-academic organisations also take foreigners on tours of the country.
Unlike government-run guided tours, the project allows participants to visit university students in schools in the DPRK and occasionally unshackles visitors, allowing them to wander around public spaces - striking up conversations with North Korean residents.
Mr Reichel says he wants those in academia to "experience DPRK for themselves and try to see a different side of a country that's a lot more dynamic than they may have anticipated".
The project currently offers three separate programmes - some workshop-based and some course-based - through which students and professors visit Kim Il-sung University in the country's capital and tour North Korea through the assistance of native and foreign guides.
The Pyongyang Project is now also preparing for the country's first full-fledged, two-month study abroad programme at Kim Il-sung University, where Mr Reichel has established relations.
'One gigantic theatre'
Dave Fields was a participant in the project's well-established Delegation Programme - a 10-day trip that is broken down into two days of orientation in China, three days spent near the China-North Korea border and five days touring the DPRK.
The 27-year-old from the US state of Wisconsin says he has always wondered about the "religious-like devotion" North Koreans have for deceased former prime minister Kim Il-sung and the DPRK's current leader Kim Jong-il.
He asks: "Are these genuine beliefs or is North Korea one gigantic theatre where everybody has to pretend to be a certain way?"
Following his visit, Mr Fields, a PhD candidate studying diplomatic history, says he gained the "distinct impression that this was real and this was genuine".
And although the Pyongyang Project has not yet encountered any significant safety issues, Mr Fields admits it was difficult for his parents to swallow the news of his trip, which included stops in Pyongyang, the port city of Wonsan and the southern-most city of Kaesong.
"I tried to assure them of the difference between doing what the Americans have done that have gotten arrested - crossing border without any kind of visa - and what I was doing, going with permission and having the proper documentation," he says, referring to the four US citizens who have been arrested during the past year and a half for illegally entering the DPRK.
'Bizarre' nation
As shocking as it may seem, it is legal to enter North Korea for many citizens in many western nations.
As a US citizen specifically, a valid passport, a visa to enter the country and a pre-arranged guided tour through a legitimate North Korean agency is all that is required.
But what also makes the Pyongyang Project unusual is its ability to divert from the premeditated, guarded tours of the country and allow its participants to hold conversations with ordinary citizens, Mr Reichel says.
During a stop in Wonsan on the latest delegation trip, participants of the programme were brought to the beach and allowed to play amongst thousands of North Koreans.
"They took us to the beach, we got our swimming trunks on and they basically said, 'Go have a good time, you can talk to people'," Mr Fields says.
He adds that those on the beach, although malnourished in appearance, were cheerful and more than receptive to speak with foreigners, inviting them to sit with them on the beach and challenging the programme's participants to jump off a diving board into the sea.
Esther Han, a medical student from Texas, says the most impressive part of her trip through the Pyongyang Project was the Arirang Festival, referring to a roughly 100,000-person strong dance and gymnastics performance dedicated to the nation's founder Kim Il-sung.
"It was definitely one of those events that could kind of take your breath away," she says.
But the 26-year-old warns of red flags she noticed throughout her visit, telling signs of a "bizarre" nation.
"You get the feeling that it is sort of like a time capsule society - hair styles even that are kind of stuck in the 1960s," Ms Han says.
At one point during a tour through a computer lab at Kim Il-sung University, students stared blank-faced into machines that were turned off, the Texas native says, adding that some rooms in the university even felt unused and smelled of fresh wood and paint.
"It definitely felt like there were props around the university."
She says from the start of her trip there were also indidcations of animosity toward the US, like the newspaper she was handed aboard the flight into North Korea - which contained a story with the headline "US nukes threaten the world".
But Ms Han is still quick to recommend a visit to North Korea.
"I would encourage people to go, honestly - because I don't think they're going to see that anywhere else," she says.
North-South conflict
One might assume that the recent tension on the Korean peninsula over North Korea's November shelling of Yeonpyeong, a small South Korean island, might be enough to force Mr Reichel and Mr Young to shut the programme's doors.
But Scott Snyder, director of the Center for US-Korea Policy at The Asia Foundation, says it shouldn't be a concern for the project's founders or prospective students.
"There is a heightened level of political tension that exists, and one cannot rule out the possibility of additional actions that could lead to further tensions - but I don't see it, honestly," he says.
"It was an event that occurred that has proven to be isolated," he adds, explaining that he would not have a particular problem sending a son or daughter to study in North Korea.
Mr Reichel remains confident in the programme's continued success.
"If anything this will supply some of our university courses and our North-South dialogue project with another topic to cover," he says.