Hurricane Katrina: Police guilty over New Orleans death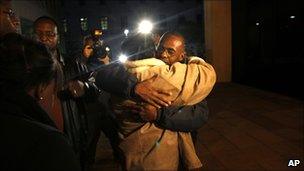 A US federal jury has convicted three police officers and cleared two over the killing of a man after Hurricane Katrina flooded New Orleans in 2005.
The jury convicted former officer David Warren of manslaughter in the shooting of 31-year-old Henry Glover.
Officer Gregory McRae was convicted of burning Mr Glover's body, while Lt Travis McCabe was convicted of writing a false report on the shooting.
Lt Dwayne Scheuermann and ex-Lt Robert Italiano were acquitted.
The trial was the first in a series of cases against New Orleans police officers for alleged abuses committed in the aftermath of the hurricane, when thousands of desperate people were trapped in the flooded city.
During the trial the five officers described the frantic conditions in New Orleans after the storm struck the city on 29 August 2005.
They told the jury that amid the chaos and with lives at stake, they only had time to investigate the most serious of crimes.
Prosecutors said the storm did not justify the guilty officers' actions but might explain them.
Hurricane Katrina made them believe "no-one was watching and no-one would care about Henry Glover", said prosecuting lawyer Tracey Knight.
The BBC's Iain Mackenzie, in New Orleans, says scrutiny of the city's police force will not end with these verdicts, because a further 13 officers are due to stand trial in other Katrina related cases - among them the murders of several unarmed civilians.
On the day of the hurricane, Mr Glover and Bernard Calloway, a friend of Mr Glover's, pulled up to a police substation at a shopping mall guarded by Warren - who was armed with his own assault rifle.
The men ran to a gate that would have allowed them to enter the building, Warren said, adding that Mr Glover appeared to be holding a gun.
Warren then explained that he gave the two men commands to stop before shooting Mr Glover in the back from a second-floor balcony.
But Officer Linda Howard, Warren's partner on the day the hurricane struck, told the court it did not appear Mr Glover was armed and that she saw the victim lighting a cigarette while leaning against a vehicle directly before he was shot.
A passing motorist, William Tanner, spotted Mr Glover and Mr Calloway and stopped to help them.
But when the group, along with Mr Glover's brother, reached a school that authorities were using as a base, police ordered the men out at gunpoint, Mr Tanner and Mr Calloway told the jury.
McRae admitted to the court he then drove Mr Tanner's car, once Mr Calloway and Mr Tanner exited the vehicle, from the school to a river levee and set it on fire with Mr Glover's body inside.
McRae said he committed the act because he did not want to see additional dead bodies rot around New Orleans.