New Orleans police under scrutiny after killing verdict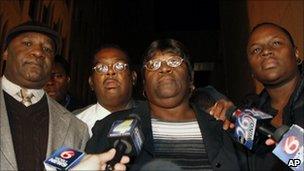 New Orleans witnessed many macabre spectacles in the wake of Hurricane Katrina.
Few could have been more bizarre and chilling than the death of Henry Glover.
The 31-year-old had survived the flooding that claimed more than 1,800 lives in his city.
Four days after the storm, on 2 September 2005, he was shot by New Orleans police officer David Warren.
Some reports say Mr Glover was collecting stolen goods at the time - a criminal act, but not one normally punished by death.
Mr Glover's friends and a passerby drove him to a local school that was being used as a police base.
Instead of receiving help, the men claimed they were beaten up, while Mr Glover was left to die from his wounds.
Later, one of the officers drove the car to an area of scrubland next to the Mississippi river and set fire to it, with Mr Glover's body inside.
His friends and family tried to have the case investigated, but got nowhere with the police.
"I tried to go to the media. They called me a raving lunatic," said William Tanner, one of the men who tried to help Mr Glover.
Three years later, the case came to the attention of the FBI, which brought charges under civil rights laws.
David Warren was accused of murder, four other officers were also implicated.
"The government tried to paint it as a broad conspiracy by cops," said Brendan McCarthy, a reporter with the New Orleans Times-Picayune.
"In their closing arguments they noted that there were a lot of bodies after the storm. Only one was burned up, and he just happened to have been shot by a cop," he added.
David Warren was eventually found guilty of manslaughter.
Officer Greg McRae was convicted of setting fire to Mr Glover's body and obstruction of justice.
Their colleague, Travis McCabe was found guilty of falsifying paperwork and lying to the FBI.
However the jury did not believe the claims that police officers beat up Mr Glover's friends.
Two senior officers, Lt Dwayne Scheuermann and ex-Lt Robert Italiano, were also cleared of involvement.
Following the verdicts, prosecutor Jim Letten called the case "a critical phase in the recovery and healing of this city".
But scrutiny of the New Orleans Police Department and its post-Katrina activities is far from over.
Thirteen other members of the force are either awaiting trial or have pleaded guilty over similar incidents.
In June 2011, six officers are due to stand trial over the Danziger Bridge shootings, in which two unarmed civilians were killed and four others injured.
The debate over ethics in times of extreme crisis continues, according to Brendan McCarthy: "How does law change during the storm?
"Many will say the law tweaks a little bit. In this case prosecutors have argued Hurricane Katrina does not change our law.
"In fact law and principles matter more during these stressful times."
Related Internet Links
The BBC is not responsible for the content of external sites.