Elizabeth Smart kidnapping: Brian Mitchell found guilty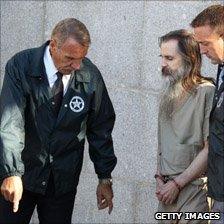 A jury has convicted an itinerant street preacher of kidnapping and transporting for sex a 14-year-old girl from Utah in 2002.
Brian David Mitchell faces up to life in prison for kidnapping Elizabeth Smart.
He did not contest the facts but pleaded insanity, and frequently interrupted court proceedings with rambling songs and outbursts.
His estranged wife Wanda Barzee last year pleaded guilty to kidnapping.
"I hope that not only is this an example that justice can be served in America, but that it is possible to move on after something terrible has happened," Ms Smart said outside the courtroom on Friday.
The authorities say Mitchell kidnapped Ms Smart, now 23, from her parents' home in Utah at knife point.
He had met the family when Ms Smart's parents hired him for casual handiwork.
Over several days of compelling testimony, Ms Smart said the couple had held her through "nine months of hell" in a mountain-side camp.
Mitchell forced her into a self-styled polygamous marriage and raped her almost daily, gave her alcohol and drugs to lower her resistance and threatened to kill her, her family and anyone who tried to rescue her, prosecutors said.
During the ordeal Mitchell preached his bizarre religious ideas to the teenager, and diary entries she kept show that before long she came to absorb them, at least on the surface, prosecutors said.
But Ms Smart testified that Mitchell's religious claims were an effort to placate Barzee, his wife of nearly two decades, who was distraught he was having sex with the young girl.
Ms Smart said Mitchell had been motivated by drug and alcohol use and a desire for sex, not religious fervour.
She was reunited with her family after she was spotted - wearing a dark wig and a veil - in the company of Barzee and Mitchell in Salt Lake City, about 10 miles (15km) from her home.
The case was delayed for years after a state court found Mitchell incompetent to stand trial. Federal prosecutors stepped in, contending Mitchell was feigning mental illness in order to avoid prosecution.
As the verdict was read, Mitchell sang and appeared to be praying. He is to be sentenced on 25 May, prosecutors said. Barzee is due to be released from prison in 2016.
Following the verdict, prosecutors praised Ms Smart as having "extraordinary courage and extraordinary determination", and said her testimony had helped win the conviction.
"That young woman has the ability and the willingness to recall the graphic details of her nine months of captivity and she did it with candour and clarity and truthfulness and gave us all a powerful and incredible story," federal prosecutor Carlie Christensen said.