Canada murder pilot Williams expelled from military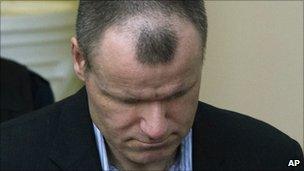 A Canadian pilot convicted of murder and violent sexual assaults has been formally ejected from the military.
Military officials also took former Col Russell Williams's medals, after his uniform was burnt last month.
Once among Canada's most prominent military pilots, Williams pleaded guilty last month to two murders and two sexual assaults and was sentenced to life in prison.
He also admitted a string of burglaries in which he stole women's underwear.
"We're just satisfied that all the administrative steps were taken and we really wanted the Canadian public to know this so that there's a marker and we can move forward from this point on," said Cdr Hubert Genest, spokesman for the Canadian Forces, the Canadian Broadcasting Corporation reported.
In a terse statement, the Canadian military said it had confiscated Williams's South-West Asia Service Medal with Afghanistan bar, Canadian Forces' Decoration and his commission scroll, a document confirming his authority as an officer.
Williams was given a life sentence last month, after an Ontario Superior Court Justice Robert Scott described the 47-year-old as a "sick and dangerous man".
"Russell Williams will forever be remembered as a sadosexual serial killer," Justice Scott said at the time.