Basketball rules hit record $4.3m at Sotheby's auction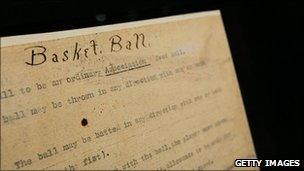 The historic document spelling out the original rules for basketball has fetched $4.3m at auction - a record for any item of sports memorabilia.
The two, signed typescript pages that set out the 13 rules were drawn up by the sport's Canadian founder, James Naismith, in 1891.
The rules were sold by the Naismith International Basketball Foundation at Sotheby's in New York.
They were bought by Kansas basketball fans David and Suzanne Booth.
The sale broke the previous record for sports memorabilia of $3m - set in 1999 for the baseball hit by Mark McGwire when breaking the single-season home run record in 1998.
Naismith had written the rules to set up a new winter sport for boys at a YMCA in Springfield, Massachusetts, where he was a physical education teacher.
The school had given him two weeks to come up with a new sport and he finalised it the day before the deadline, pinning the rules on a gym bulletin board.
The money from the sale will help the foundation in its charity work.
The buyers hope to display the document, entitled Founding Rules of Basketball, at the University of Kansas.
Naismith was the first basketball coach at the university.
He lived to see his invention become an Olympics sport in 1936 and died in 1939.
At the same auction, President Abraham Lincoln's Emancipation Proclamation, which declared the freedom of slaves held in southern states during the Civil War and was owned by ex-Senator Bobby Kennedy, fetched $3,778,500.
Related Internet Links
The BBC is not responsible for the content of external sites.