Obituary: Richard Holbrooke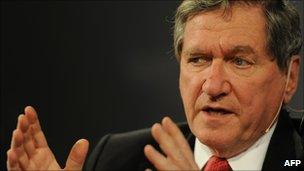 In a career alternating between financial executive and diplomat, Richard Holbrooke was perhaps best known as the architect of the 1995 Dayton peace accords that ended three years of war in Bosnia.
However, in recent years he was most prominent in his role as President Barack Obama's special envoy for Afghanistan and Pakistan.
Nicknamed "the Bulldozer", Mr Holbrooke gained a reputation for confronting warring leaders to get them to come to the negotiating table.
These skills were tested in his efforts to get Kabul and Islamabad to effectively fight the region's resurgent Taliban and al-Qaeda militant groups.
Mr Holbrooke was born in New York in 1941, of German-Jewish descent. He was educated at Brown University and was married to writer Kati Marton.
He began his diplomatic career in Vietnam, and served as assistant secretary of state for Asia as well as US ambassador to Germany.
It was while he was assistant secretary of state for European and Canadian affairs, between 1994 and 1996, that he went to Bosnia as part of a peace-seeking delegation.
Over the course of various protracted and often difficult negotiations, Mr Holbrooke developed a rapport with then Yugoslav President Slobodan Milosevic. They were said to have been on first name terms.
There were stories of Holbrooke sipping a mid-morning pear brandy with Mr Milosevic at the peace talks in Dayton, Ohio.
Mr Milosevic also reportedly hosted the US diplomat for an 11-hour dinner near Belgrade at the former hunting lodge of long-time Yugoslav President Tito.
Mr Holbrooke said he had no moral qualms about "negotiating with people who do immoral things".
"If you can prevent the deaths of people still alive, you're not doing a disservice to those already killed trying to do so," he said in 1999.
"And so I make no apologies for negotiating with Milosevic and even worse people, provided one doesn't lose one's point of view."
His success at Dayton saw him nominated for the Nobel Peace Prize - one of several such nominations he received over his career.
Although his 1999 mission to persuade Mr Milosevic to remove his troops from Kosovo failed, it did not damage his reputation as one of the best and toughest US diplomats.
Within days of taking office in January 2009, Mr Obama named Mr Holbrooke as his special representative to Afghanistan and Pakistan.
Mr Holbrooke had argued that to be effective the job must cover both countries.
Known for his blunt speaking, Mr Holbrooke held what was described as an "explosive" meeting with Afghanistan's president, Hamid Karzai, following the country's presidential election in 2009.
Mr Holbrooke raised concerns about ballot-stuffing and fraud and said a second-round could make the election process more credible.
In 2010, the top US commander at the time in Afghanistan, Gen Stanley McChrystal, revealed long-suspected divisions between the US military and administration officials over Afghan policy in comments to a journalist.
Of an email from Mr Holbrooke, Gen McChrystal said: "Oh, not another e-mail from Holbrooke... I don't even want to open it."
While admired for his first-class intellect, Mr Holbrooke's robust and combative style made him enemies in the US government.
In 1997, he was widely tipped to become secretary of state, but lost out to Madeleine Albright.
A year later, he was nominated by then President Bill Clinton as US ambassador to the United Nations.
But his appointment was delayed for more than a year while a federal ethics probe was carried out over his lucrative second career on Wall Street.
After stepping down from his role at the UN in 2001, Mr Holbrooke served as vice-chairman for a private equity firm.
He also advised Senator John Kerry during his presidential campaign in 2004, as well as Hillary Clinton in her bid for the Democratic nomination in the 2008 campaign.