Richard Holbrooke's wife called by Karzai and Zardari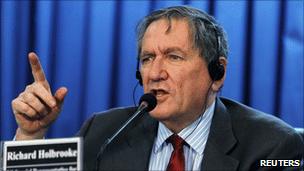 Veteran US diplomat Richard Holbrooke has received calls from the presidents of Afghanistan and Pakistan, the US state department said.
Mr Holbrooke remains in hospital in critical condition after a second round of surgery to repair a heart condition.
Mr Holbrooke, 69, fell ill on Friday while meeting US Secretary of State Hillary Clinton.
US President Barack Obama said he believed Mr Holbrooke would be "putting up a tremendous fight" for recovery.
Senior White House adviser David Axelrod said on Sunday that Mr Holbrooke was "fighting through".
His family was reported to be at his bedside in the US capital's George Washington University Hospital.
His wife Kati Marton took calls from Afghan President Hamid Karzai and Pakistani President Asif Ali Zardari, the state department said.
"He is a tough son of a gun - so we are confident, as hard as this is, he is going to be putting up a tremendous fight," Mr Obama said during a press conference on Monday.
He added: "I know everyone joins me when I say America is more secure because of the work of Ambassador Richard Holbrooke."
After taking office in January 2009, Mr Obama named Mr Holbrooke as his special representative to Afghanistan and Pakistan.
Since then he has played a key role in defining the strategy the Obama administration pursues in the region.
Mr Holbrooke was admitted to hospital on Friday and had surgery to repair a tear in his aorta, the largest artery in the human body, which carries oxygenated blood from the heart.
A torn aorta is where a tear develops in the inner wall of the artery, allowing blood to enter the vessel wall. It can kill quickly if left untreated.
"Many people would have succumbed to that. Richard is fighting through," senior White House adviser David Axelrod said on CNN on Sunday.
"Anyone who knows him - and I was with him Friday morning before this happened - knows how tough and resilient he is, and we're all praying that that quality sees him through now."
Mr Holbrooke served as an envoy to several Democratic presidents but it was his role in bringing the war in Bosnia to an end in 1995 that gained him wider recognition.
Nicknamed The Bulldozer, Mr Holbrooke has gained a reputation for confronting warring leaders to get them to come to the negotiating table.
Related Internet Links
The BBC is not responsible for the content of external sites.