US storms: Trapped motorists rescued from highways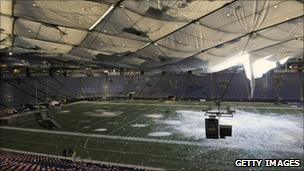 Emergency workers in the US state of Indiana have rescued dozens of motorists trapped for hours after a heavy snow storm in the Midwest.
High winds and snow were complicating rescue efforts, officials said. Fourteen deaths were attributed to the weather across the country.
The roof of the Metrodome stadium in Minneapolis collapsed on Sunday after a snowfall of 17in (43cm).
Meanwhile, officials warned of bitterly cold temperatures across the US.
In Indiana, LaPorte County sheriff's deputy Andy Hynek told the Associated Press news agency that some motorists had been stranded for as long as 12 hours on a 10-mile stretch of road.
"All the way across US 30 is at a standstill and all of those vehicles are occupied," he said.
State highway department spokesman Jim Pinkerton was quoted as saying: "As soon as the ploughs go through an area, the wind is blowing fresh snow right back into the roads. It is just really difficult for us to keep up against that wind and snow."
Elsewhere, flights were delayed and cancelled and major highways were closed.
In Minneapolis, in the upper mid-western state of Minnesota, no-one was hurt when the inflatable roof of the Metrodome sport stadium collapsed, but a 10-yard (9m) strip of the fibreglass roof was left dangling above the playing field.
The National Football League was forced to move a game between the Minnesota Vikings and the New York Giants to Detroit on Monday night.
The storm has now moved east, dumping heavy snow on Illinois and Michigan. In Washington, a light dusting of snow fell overnight on Monday.
Officials are optimistic about the chances of repairing the roof in time for the Vikings' next home game on 20 December.
The Vikings-Giants game had already been postponed for a day and a half because the snowstorm delayed the New York team's flight.
The Metrodome covers an area of 20 acres (eight hectares), with a 10-acre roof made of fibreglass coated in Teflon. The roof is 195 feet (60m) high and is supported by 20 electric fans.
Related Internet Links
The BBC is not responsible for the content of external sites.