Haiti election: Hillary Clinton calls for resolution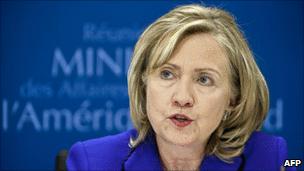 US Secretary of State Hillary Clinton has urged Haitian authorities to resolve the crisis triggered by last month's disputed presidential election.
She said officials should heed a US senator's warning that the US could cut off aid until Haiti ensured a fair outcome to the election.
Mrs Clinton was speaking in Quebec at a meeting alongside Canadian and Mexican foreign ministers.
Haitian election officials have invited candidates to appeal over the results.
That move, intended to calm voter unrest, came on Sunday after days of violent street protests by supporters of Michel Martelly. The protests left five dead and schools and government offices closed.
Mr Martelly came in third and alleged the polling had been rigged in favour of Jude Celestin, the government-backed candidate who came in second.
Mr Martelly and front-runner Mirlande Manigat, a former first lady, rejected a Haitian electoral council's proposal for a recount of the first vote.
The 28 November vote was widely denounced, with reports of ballot box stuffing and violence and intimidation at polling places.
Meanwhile, Canadian Foreign Affairs Minister Lawrence Cannon on Monday urged the Haitian government to continue the democratic process with "respect and calm", the Canadian Broadcasting Corp reported.
"It's important for the people of Haiti to assume their responsibility because, I repeat this, there will not be any economic progress if there is no government stability, and what is essential is to get the stability of the government," he said.
Last week, US Senator Patrick Leahy, the Vermont Democrat who oversees foreign aid for Haiti, called for a halt to funds until the crisis is resolved.
Mrs Clinton on Monday said his remarks showed US "frustration" over a lack of a "co-ordinated, coherent response from the government of Haiti that is called for".
Related Internet Links
The BBC is not responsible for the content of external sites.